Meet Sherry from Fond du Lac Literacy Services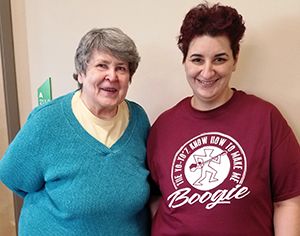 by Samra Teferra
     Sherry R. began working with Fond du Lac Literacy Services (FDL) in 2017.  The decision was a bold move.  She never got the proper encouragement to pursue her dreams before , but she was steadfast and now two years later will be receiving her HSED in May of 2019.  "My biggest challenge was proving that I could actually do something that people said I could never do-like graduate high school," said Sherry.
    Sherry's work with FDL sparked a love of learning.  Even though she will be getting her HSED in May, she still plans on continuing with the program to further her education, which she already has concrete plans to do.  She will be attending college this coming fall. 
    "One thing I love the most is working with numbers. I used to never like working with numbers, but now I love it," said Sherry.  She plans on studying banking and culinary arts.
    Sherry's success is a testament to dedication – hers and that of the supportive tutors and staff at FDL.