Member Spotlight: Children's Dyslexia Center of Madison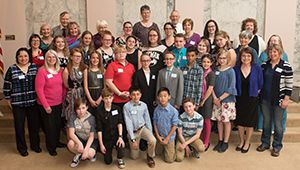 by Samra Teferra
Learning to read can be a major feat for a child.  The vowels, consonants, fricatives and contractions all present complexities that can be hard to grasp, even for adult learners.  But for dyslexic learners the challenge can be even more complicated.  The Children's Dyslexia Center of Madison (CDC) has been working to ease the challenges of dyslexic learners for the past 19 years and has proved to be helpful for more than 200 students.
Dyslexia is described as a language-based disability.  It can result in people having difficulties with spelling, writing and pronouncing words, among other things.
Data shows that 1 in 10 people have dyslexia.  In addition, over 40 million American adults are dyslexic and only 2 million know it.
Such statistics prove Dyslexia awareness and intervention is necessary.  However, public education is not always enough. 
CDC provides the Orton-Gillingham method of learning, a structured approach that simplifies reading and spelling.  Reading and spelling are broken down into smaller skills involving letters and sounds.  These skills are built upon over time resulting in literacy. 
It also involves a multi-sensory approach to teaching.  This means the approach uses multiple pathways to help learners.  For instance, a child might learn the letter "s" by seeing it, saying its name and sounding it out while writing it with their fingers in shaving cream.
The method also teaches learners the reasons reading works the way it does.  Learners may explore why a consonant sounds one way in a word and then differently in another word.  Understanding these rules helps learners be able to decode words on their own.  "Teaching language systematically responds to kids' analytical side.  Students are very bright," said Kelly Keunzie, Director of Children's Dyslexia Center-Madison.
Students need a score of 85% or higher on the curriculum in order to pass.  If a student does not get this score, tutors reteach the material or find another way to teach the material.  CDC believes in the effectiveness of overlearning.  "They practice overlearning the basic elements of language, it's not just a matter of knowing it but practicing it every time.  Practicing every time they come in helps them find success," said Keunzie.
The average age of learners at CDC is 7-17 years of age and it takes two years to finish the program. Students from all backgrounds have found success through the program.  
A recent graduate of the program was an 18-year-old still finishing up high-school.  He successfully finished the program and after he left never needed remedial work.
Another graduate of the program, a boy named Finnian, came to the program when he was in the fourth grade.  Within two years he improved his overall comprehension by nine grade levels.
After graduating from CDC last Spring, with his new-found confidence and literacy skills, he gave a speech to the local chapter of the NFL.  He wrote and practiced his own speech, at 12 years-old, and when the time came, he got a standing ovation in a room of five-hundred people.
However, building confidence can be hard for many learners dealing with Dyslexia.  Data shows that because of the difficulties and failed attempts dyslexic learners face, a negative self-image and anxiety may arise.  It is found that the Dyslexic population is at a greater risk for anxiety and a poor self-image.
Keunzie attests to these findings.  "Anxiety is a significant issue for our kids.  They are corrected so many times in home and school they become self-conscious and can shut down. Because they don't have the tools to correct this, it becomes a stressor for them," said Keunzie.
But CDC offers a creative solution to these problems.  At the beginning of the program learners receive a teddy bear and Every time learners are in the classroom the teddy bear is present. "The teddy bear offers comfort, their soft and huggable and when they graduate, they receive a certificate of achievement and the bear," said Keunzie.
Another source of comfort is found in the relationships formed. Keunzie explained that because of the one-on-one instruction provided, a relationship is formed between the tutors and learners, which can create a trusting environment.
Wisconsin Literacy has played an instrumental role in the progress of CDC as they have been a big resource.  Wisconsin Literacy has provided CDC with books and connections to other organizations.  "It's nice to be a part of a community and see what other programs are doing," said Keunzie.
Without proper intervention, dyslexia can be an isolating experience. But the Children's Dyslexia Center of Madison is bringing learners out of the darkness and into the abundant possibilities found through literacy.