Member Spotlight: Racine Literacy Council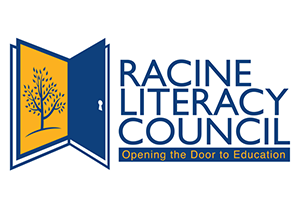 by Carolyn Umfress
In 2017, the Racine Literacy Council joined a collaborative initiative aimed at increasing GED attainment in Racine. There are over 15,000 Racine County residents without a high school diploma, attributing to a high unemployment rate. The GED initiative was started by the YWCA, Racine County and Gateway Technical College. On August 8, 2017, the city's first 5.09 HSED (High School Equivalency Diploma) program was launched at Workforce Solutions. The 5.09 program allows adults to get their high school credential in as little as 20 weeks without having to take the actual GED tests. The class was designed and developed by Jake Gorges, Adult Education Manager at YWCA Southeast Wisconsin in Milwaukee, Wisconsin. 
Although the 5.09 HSED class was successful and well attended at Workforce, it became clear an additional evening offering was needed. In May 2018, partners from Gateway Technical College, YWCA of Southeast Wisconsin, and Workforce Solutions approached the Racine Literacy Council to be the catalyst in providing this evening class. Over the next four months, the RLC saw its first 5.09 HSED program come to fruition. Classes began October 8, 2018 and ran for 25 weeks, hosting its classes Monday through Thursday from 5:30 p.m.-8:00 p.m. The 5.09 class would (and still does) require students to complete 10 weeks of Math/Science, 10 weeks of Reading/Social Studies, 5 weeks of Health and Career Awareness, attempt the National Career Readiness Certificate (NCRC) exam, and take and pass the Civics test. 
The graduates of the 5.09 class accrued over 220 hours of instruction. They all passed the NCRC test with high scores, making them work and college ready. All seven students graduated with their HSED on May 22, 2019 in a ceremony at Gateway Technical College. College is everybody's next step, with them all seeking various degrees in Nursing, Computer Science, Advanced Manufacturing, and Business. 
"This class doesn't only help you with your HSED, but it also prepares you for life's next step," said student, Enrique Carranza, who plans to enter college within the next six months. 
Obtaining a GED or HSED can often be a daunting, scary process. Albeit at times challenging, programs such as this one makes the journey both accessible and realistic. All the 5.09 graduates recommended the program, citing motivation as the key factor for success. 
"Giving up is not an option. This program is a must. You will complete your HSED," said D'Asia McCray, who plans to enroll in Nursing school by year's end. 
The Racine Literacy Council, YWCA of Southeast Wisconsin, Gateway Technical College, Workforce Development, and Gateway Instructor, Jo Anne Cunningham, are proud of all the graduates.
For more information about 5.09 HSED classes at the Racine Literacy Council, please contact them at (262) 632-9495 or log on to www.racineliteracy.com.