Wrap Around Services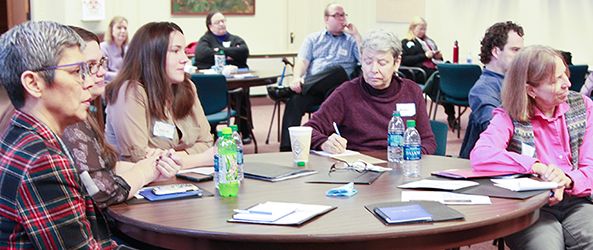 The winter Southeast Regional Meeting on January 20th began with a presentation by Laura Sumner Coon on agency sustainability and tools to determine if you've become obsolete. Attendee Micki Hoffman from Friends of the Library Literacy in Hartford said, "She was wonderful and gave us so many things to think about!" They used Laura's checklist to guide their board's discussion at their next meeting.
Our southeast regional literacy consultant, Marsha Connet, also coordinated a chance for agencies in the southeast to meet with Regina Smith, Dean of Milwaukee Area Technical College's School of Pre-College Education. Our agencies had an opportunity to discuss with Dr. Smith their contributions to adult education in their communities and how strong partnerships help serve community members – getting the skills and training they need for the jobs available. Regina Smith talked about expanding the relationships she has with our members: "I hope that the future partnership with the community-based organizations (CBOs) will lead to better services all around for our students -- to help one another with wrap around services. If we band together, we can show the community what we have to offer and how important we are to workforce and economic development in the state."
The Summer SE Regional Meeting is planned for June 15 from Noon until 3 PM at the Social Development Commission, 1730 West North Avenue, Milwaukee, WI 53205
Tel: 414-906-2836. Please RSVP to Marsha@wisconsinliteracy.org.