Meet Maria Ollarvez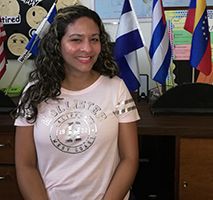 UPDATE: Maria got connected with her tutor Cassie Nelton and in three months developed the language skills needed to land a job at Miller Electric Company. Her efforts have been fruitful not only for her but also for her tutor. Nelton finds tutoring a rewarding experience.  "I've had exposure to different cultures in a new way - it's helped my understanding of the world," said Nelton. 
Maria Ollarvez is from Venezuela. She has been on the waiting list at Fox Valley Literacy Council since March.  She wants to improve her English to show respect for living in this community. Strengthening her English literacy skills would also allow her to work in her chosen profession.
Maria is a trained civil engineer. Currently, she is working in an assembly line position that requires basic English proficiency. But, Maria hopes that after working with a tutor, she will again be able to work in project planning and design engineering.    
While waiting for a tutor, Maria went back to the Fox Valley Technical College for English classes. She also attends conversation circles at Fox Valley Literacy Council so she can practice and stay engaged.  She looks forward to learning with a tutor so she can receive more individualized support and identify areas for growth. To avoid feeling discouraged while on the waiting list, Maria suggested prospective students help each other. For example, a student who knows how to make crafts could teach other students on the waiting list and they can practice English together. This would empower students to share their skills, build community, and expand their vocabulary!    
Maria says that she is grateful for literacy councils because they support people who are often afraid that they won't make it.  She says "You support us and hold us together so that we think we can. This organization is not just for students, but also for those who give their time."  When asked what she would say to someone considering tutoring, she responded, "Make the decision now, knowing that you are not just helping one person but a whole family!"