Meet Kate, Pam and Ashley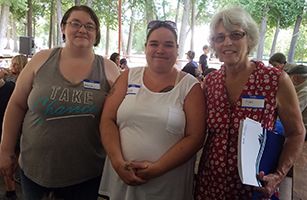 Pamela Griese (middle) completed her GED about two years ago with the help of Kate Phillips (right), her tutor.  Over a year ago, Pam called Literacy Partners of Kewaunee County and asked if her friend, Ashley (left), could start her GED.  After some discussion, Pam asked if she could be Ashley's tutor and was told that she could. 
Late in 2017, Pam let the literacy partners know that Ashley had completed all requirements plus the exit interview.  She had her GED!  
Ashley is presently working at a local assisted living home and plans on going back to school to become a nurse.