---
This fall, Wisconsin Literacy, Inc., and its member agencies have a tutor recruitment drive from August 1st through December 1st. This drive draws attention to the need for volunteer tutors in order to reduce waiting lists of learners at our member agencies. 

Wisconsin Literacy participating member agencies:
Northeast
Northwest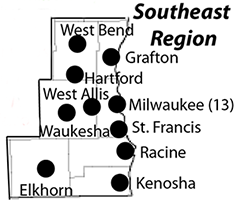 Southeast Region
Southwest/South Central
This 16-week recruitment drive, sponsored by Dollar General Literacy Foundation, American Family Insurance, the Vernon Library Supplies Grant, and WEA Trust, provides a venue for Wisconsin citizens to give the gift of literacy to their communities. A growing number of these professionally trained volunteer tutors play an important part in helping dislocated workers re-enter the workforce. Most tutors volunteer one-to-three hours per week, often providing life-changing results for adult learners. In smaller, more individualized settings, our member agencies offer basic skills to help adults get back to work with improved computer and math skills and basic literacy services. With adequate preparation, adult students are encouraged to enter the Wisconsin Technical College System and/or to explore career pathways.
More than 1.5 million Wisconsin residents are in need of literacy services. Become part of the solution by signing up to be a volunteer tutor today. Visit our Find a Program page or call 608.257.1655.
Major Sponsors:
Additional Sponsors: