Literacy is the Key to Independence: Adult Literacy Center – Ozaukee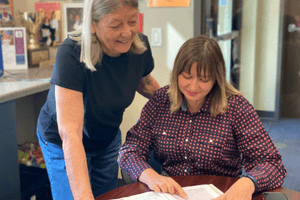 Improving language and literacy skills brings independence and the ability to advocate for yourself. Katie Eippert, Program Director of Adult Literacy Center – Ozaukee (ALC), says "We measure a lot on tests, but really the successes that we count are things like: I can now go to the grocery store on my own or I can go to the doctor on my own."
Even though Ozaukee County is the wealthiest county in Wisconsin with the highest per capita income (2010 United States Census and the 2006-2010 American Community Survey 5-Year Estimates), there are still community members in need of literacy services. 
"There'[re] 3,500 people who don't have a high school diploma, 17,000 with limited assets and income, and 4,300 who don't speak English at home in the county. There is a high immigrant and migrant worker population here," said Sarah Gilday, Executive Director of ALC. "People think we don't have a literacy issue in this in this county. And actually that is not necessarily the case."
ALC has served this population for 30 years while housed in their own wing of Grace Lutheran Church in Grafton, WI. 
"Many studies say that the greatest predictor of someone's ability to achieve their goals and to achieve success is if they have hope," shared Sarah.
ALC works with adults who want to communicate with their children's teachers or practice interview questions to apply for their first job in the United States. They use TABE, a standardized adult basic education assessment, but also measure hope through goal assessment. 
They encourage their adult learners to celebrate successes beyond just test scores. "Really focusing on life skills and individual goals - whatever the student is looking to do while at ALC. Once they're able to do that - whether that checks the box on a test or not - that is a huge success," said Katie.
When learners first arrive at ALC, the path to achieving those life skills can seem insurmountable: how are they going to get to the store, go to a doctor's appointment on their own, or advocate for themselves? ALC tutors offer individualized support to help learners meet their unique personal and educational goals.  
Sarah said:
"Our tutors really help [learners] get to those goals and in essence give them that hope that they can achieve even more. The small goal was being at able to advocate for themselves at the doctor's appointment, but then that same student is now enrolled at MATC (Milwaukee Area Technical College) in a completely different career then the goal started here, and now it's off the charts."
Many adult learners have more skills than they realize. Once they start achieving their personal goals and building confidence, they can navigate their communities more independently. 
For example, phone conversations can be a challenge for English Language Learners (ELLs). During the COVID-19 pandemic, ALC tutors and learners moved from in-person lessons to virtual online meetings or phone lessons. Many learners now feel more confident making phone calls, as a result of the consistent practice with their ALC tutors.  
In addition to explicit English language instruction and adult basic education, ALC hosts a book club for tutors and learners, and they participated in Wisconsin Literacy COVID vaccine outreach grant. Expanding programming has opened up the door for new community collaborations. 
As Sarah mentions, "that was just such a wonderful connection that we were able to get through Wisconsin Literacy. When you're specifically trying to reach people with low literacy or low English skills you can't just throw a billboard up. Being able to work with other nonprofits and organizations who are already serving those groups is a way to help them know that you're there."
Give to Wisconsin Literacy to strengthen the life-changing work of literacy.