McLit Spotlight: Literacy Serves a Bit of Everything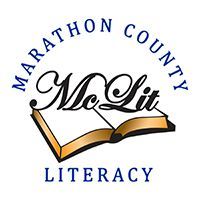 For McLit (Marathon County Literacy Council), literacy is not just about reading and writing, but about learning directly from the people served as well.  "You get right in their lives when you are doing literacy.  You can make a difference to change their lives for the good.  That's part of our mission." Connie Heidemann, Executive Director of McLit said.
When a man in his mid-forties walked into their office needing help after being robbed, they didn't hesitate.  They helped him. 
"This is literacy in a form.  We're going to figure it out.  We're going to help this person," said Connie.  He'd been a truck driver but now had no money and no ID.  McLit staff worked with him to get food and an ID.  Within 6 months, he got his driver's license and re-applied for his CDL (commercial driver's license).  Whenever he travels to Wausau, he stops and thanks them because they made such a big difference in his life.  
Four years ago, Connie, a retired teacher, wanted to volunteer at the local literacy council in Wausau.  Unfortunately, McLit wasn't active when she looked into it but that didn't stop Connie.  
She started with small steps.   People asked her if she could show them how to use their phone.  Then, someone came in and asked for help learning to read. She realized someone needed to help.
She took over a room at the library and stocked it with a few bookshelves and teaching supplies she'd used as a teacher.   "Once I get involved, I pour my heart and soul into it," Connie shared.
McLit became a Wisconsin Literacy member and received hands-on support to reemerge as a community agency.   Connie consulted with Wisconsin Literacy's Northeast Regional Literacy Consultant and asked for advice from her literacy peers across the state: "I was taking bits and pieces of what all the different people from all over the state said.  It's a good supportive group."
As the needs of the community grew, so did McLit. Connie reconnected with Hmong children (currently young adults) that had been previously served by McLit to provide   financial education. These young adults learned how to open a bank account, use credit cards safely, analyze interest rates, and understand mortgages.  
McLit began to partner with NTC (Northcentral Technical College) to help non-native English-speaking adults improve their language skills so they could attend the technical college.  In addition to English language skills, McLit volunteers helped adults increase their comfort and proficiency with technology. 
When NTC moved from the Salvation Army, McLit jumped at the chance to have more space and the 8 computers left behind. This new space brought new opportunities and challenges. There was a clear need for health literacy support among the Salvation Army patrons. McLit developed programming to meet this need. 
For over 2 years, this space worked well for McLit. However, when the COVID pandemic hit, both the Salvation Army and the library closed.  There was no space for McLit to continue providing services.  "By April," Connie thought, "we're going to die if we don't keep some of the people coming.  I've got to figure out something."  
In talking to a local bookstore owner, Connie found out that a new space was available starting June 2020.  It was along a bus route – a necessity for many of the people McLit serves – and highly visible for foot-traffic.
Now, McLit's walls are lined with bookcases, they have a computer area, and a conference room.  "I wasn't planning on this sort of move.  But this worked out well for us."  They also have plenty of room to social distance, provide sanitizer and wear masks to keep staff, volunteers, and students safe during in-person instruction. 
Sustainability is the next big task for this small but mighty literacy council. Connie shared, "Now I am just working and working, but I love every moment of it."
Give to Wisconsin Literacy to strengthen the life-changing work of literacy.