Meet Danny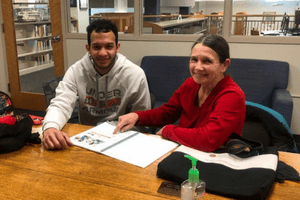 Danny needed help with basic English when he first started at Fond du Lac Literacy Services (FLS). He worked at a restaurant where most of the people spoke Spanish, and he didn't have the opportunity to practice English.
He started one-on-one learning with his tutor before the pandemic and continued virtually as much as they were able. Danny brought his tutor things that were difficult for him to say while he was working and when he was out and about in the community. 
She worked with Danny on those specific skills. As his confidence increased, he spoke more to native English speakers.
Since Danny began at FLS, he got a new job working in a factory, Mercury Marine. He went through the application and the interview processes by himself.
He also attends Moraine Park Technical College (MPTC). When he first started learning English, he was overwhelmed by the options at MPTC, and it was hard for him to learn what he needed.
The one-on-one tutoring helped him focus on what he needed to learn most.
"He's really progressing really quickly," shared Juana Montes-Hernandez, Coordinator at FLS, "but you know for him, he just wants more and more. But a lot of goals, he has met!"
Danny and his tutor stuck through the difficulties of the pandemic and continue to put in three to four hours of instructional time a month. His hard work paid off because he is now an intermediate English speaker moving quickly towards advanced. 
Danny even wants to become a bartender so that he can talk to new people in English as part of his job.
Danny believes in the power of learning English and recruits other students to come to FLS. He shares with them how the one-to-one tutoring helped him gain confidence.