The Adult Learning Center: Wrap-Around Support for Success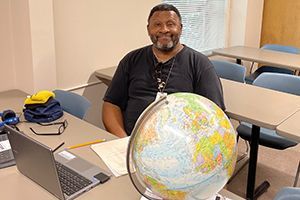 The Adult Learning Center (ALC), in Milwaukee, successfully created and implemented online class instruction since the COVID pandemic started. Founded in 1979, ALC has a "traditional" classroom experience that is teacher-led and tutor-supported for their students. Jon Gilgenbach, Executive Director, shared why the switch to online instruction was so important:
 
Over the past 15 months, we have witnessed firsthand the ways in which our students are disproportionately affected by a lack of technological training and resources. We have worked tirelessly to bridge the gaps our students face by providing basic computer and technology skills training, as well as providing a safe and accessible environment for students to come and either use our technology onsite, or borrow what they need to participate from home.
ALC strives to give every student timely and comprehensive support. Olabisi Ajibade, a virtual GED student, shared that ALC provided "good assistance immediately from instructors/colleagues that [she was] in the same class with." Classmates work as a team as they study and advance through the GED tests.
Many ALC students value that online classes afford flexible schedules, no commute, and fewer childcare issues, all of which allow learners more time with their families. Recognizing that their high-quality program can serve students' needs online, in person, or both, the Adult Learning Center moved classrooms and program offices to City on a Hill last month to best use their resources. 
When students enroll in online or in-person classes, a certified teacher leads daily classroom instruction. Volunteers work with classroom instructors and the ALC support staff to facilitate one-to-one and small-group tutoring sessions in areas where individual students may have specific challenges. This ensures that each student is given the wrap-around support they need to be successful.
Wisconsin Literacy purchases GED test vouchers for ALC students, many of whom  qualify for Temporary Assistance for Needy Families. Because Wisconsin Literacy provides testing vouchers, ALC can offer other essential support services .
Jon says, "Literacy skills are important for individuals to be able to go through their lives with confidence. Understanding the words and language in the world around you is essential for instilling a feeling of self-determination and agency." Students use the basic skills of reading, mathematics, and digital literacy acquired at the ALC to lead richer personal lives and support their families, affecting multiple generations. 
A majority of students either gain employment or improve their job situation while still enrolled in the ALC's program. They increase their financial stability and lower their stress even before they acquire their full GED/diploma.
Give to Wisconsin Literacy to strengthen the life-changing work of literacy.