Wisconsin Technical College System (WTCS)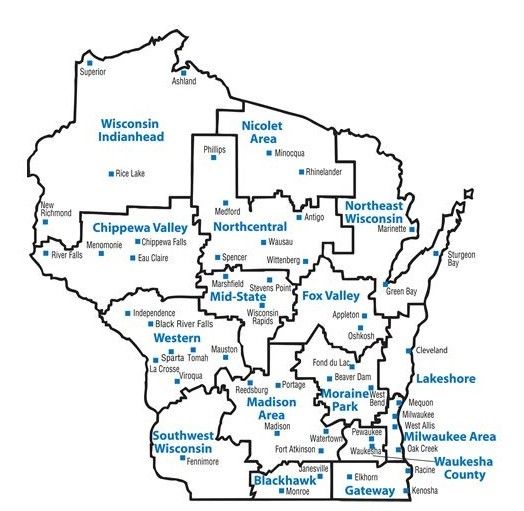 Source: advancewisconsin.org/wtcs-map/
Wisconsin has 16 technical college districts. These colleges play an integral role along with local WDBs in setting job training priorities informed by local industry input and coordinating and facilitating training. Community-based literacy programs encourage and promote a streamlined, collaborative transition of students to a WTCS bridge program, career pathway or job training and employment. WL connects community-based literacy agencies with technical college partners which increases access to services in both systems and raises the capacity of member agencies to move their adult learners to broader educational or job opportunities.
Career Pathway Coordinators assist each technical college by connecting the community, specifically local employers, to the college's career pathways. The position looks a little different at each college depending on the focus and industry of each location. Information about the program and a list of the coordinators can be found at this link: http://mywtcs.wtcsystem.edu/student-success/career-pathways.
Associate Deans and Deans that work with literacy programs and/or WIOA partners come from departments such as: General Studies, Pre-College Education or College of Preparedness of Academic Advancement.
See the Tips for Connecting with Your Workforce Partners section for ideas on how to connect with your local technical college.