Fond du Lac Literacy: Responding to Needs in their Community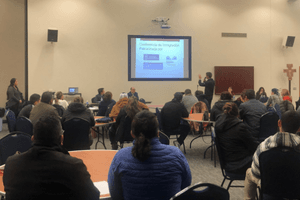 The COVID-19 pandemic forced everyone to face the uncertainties of life. For students at Fond du Lac Literacy Services (FLS), this uncertainty led them to seek Citizenship classes and improved English language skills. 
"I've noticed that people don't want to wait anymore. They don't want to just put off something [they] want and need to do. They just realize how much more they needed [English] because of not being able to do things face-to-face, having to use more of virtual platforms, and talking over the phone," Juana Montes-Hernandez, Coordinator, shared.
Students couldn't show up to a place, ask questions, and use Google Translate to help them understand the answers. They needed to improve their English.
FLS helps adults in Fond du Lac County improve their language and literacy skills to get better jobs and to achieve their goals.
Although most of their students are Spanish speaking, they have students that speak Arabic, Portuguese, Chinese and English. Historically, they served learners through all volunteer one-to-one tutoring. The flexibility, personalization, and privacy of one-to-one tutoring appeals to many students, even if they also go to Moraine Park Technical College.
FLS has adjusted to the needs of students in their communities and the current lack of available volunteer tutors. "We have some [students] waiting. It's been hard to keep our volunteers and get new volunteers, right now. To help eliminate the waiting list or get people working and improving their skills we're doing more group [classes]," shares Juana.
They've started a citizenship preparation class and schedule it around their conversation group. FLS noticed that a lot of Spanish speakers drop-in and ask for help on rental and work applications. They want to combine the drop-in session with their conversation group offering so people can come to one or both.
Juana says, "We've seen that there's been such a need." There have been a lot of new families in Fond du Lac County and new to the country that need extra assistance learning the culture and the nuances of living here.
FLS collaborated with Holy Family and St. Vincent de Paul on a community resource fair in September of 2021. They wanted to address the needs of immigrants in their communities and invited healthcare organizations, lawyers, and other local organizations. 
They asked that representatives from the organizations spoke Spanish or another language so that community members could know where to go and what people could help them. "We wanted to bring these services to them so they would be able to ask any questions or just find out what's offered in this area." 
During the resource fair, two lawyers gave consultations. That was the most popular station, but they were only able to see a few people that day.
FLS collaborated again with Holy Family and St. Vincent de Paul to organize an Immigration Conference in January 2022. Four lawyers were present to answer questions submitted to FLS and Holy Family. 
They were able to answer a lot of general questions, but the specific ones were more difficult. From this Immigration Conference, FLS developed an Immigration Clinic in February. The same lawyers committed to seeing people within a two-hour time frame to go over all their information and their questions.
Juana and FLS continue to innovate and adjust to needs within the community. As employers in Fond du Lac County hire more non-English speaking workers, FLS has had meetings with them to discuss English workplace classes. Anna Bierer, Northeast Regional Literacy Consultant at Wisconsin Literacy, helps Juana brainstorm these new opportunities and gives her the tools to help new programs succeed.
"Through the pandemic, all the resources that Wisconsin Literacy provided to us for clear instructions in English and Spanish. It was just so easy just to forward that on to our literacy tutors and students and to be able to share those resources," shares Juana.
FLS continues to adjust to the changes the pandemic brought to the organization and the community. Their innovation to meet the needs of their community is inspirational.