Grant County Member Story: New Ideas for a New Year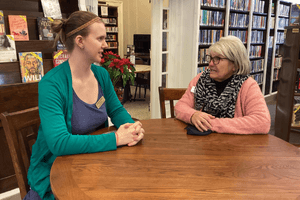 As this new year begins, Grant County Family Literacy Services (GCFLS) is growing and regrouping with the changes and challenges of the pandemic. "We're going through a transition stage right now and starting kind of new," shares Marlene Klein, Treasurer of GCFLS, a literacy organization in existence since 1994.
They gained ideas from staff and other rural programs, during Wisconsin Literacy's virtual meetings and trainings. "It kind of inspired me," said Marlene as they plan for board director retirements from their all-volunteer run organization.
"We don't have all the bells and whistles that come with living in a big city. We're rural," shares Marlene. They began their work with Even Start, a federally funded education program to give low-income families access to training and support to create a literate home environment.
They hope to expand community partnerships to help people most in need. They are exploring partnerships with local libraries and county jails. In addition to these new partnerships, they will continue their long-term relationship with Southwest Wisconsin Technical College.
With support from Wisconsin Literacy, GCFLS can give each learner their own materials to write-in and take home. For Marlene, "It's fun to be able to say 'Here's your book - use it!' You get so much more out of it when you can actually interact with the material." These books from Wisconsin Literacy help GCFLS maximize the impact of their small budget.
They are teaching an increasing number of high school students who won't graduate traditionally, but want to get their GED. Marlene stated, "This semester we have been bombarded with these under 18 students who we get contracts from the high schools to get their GED. They're high functioning and can get their GED. The online classes weren't for them, and they just fell through the cracks."
Grant County Literacy Council has been there to help them get that important credential.