Literacy, Learning and Leadership Keys to Success: Latino Academy of Workforce Development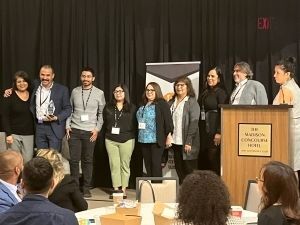 Thinking outside the box is more than a goal at the Latino Academy of Workforce Development. In fact, innovation is a key part of the strategy aimed at connecting students with career pathways.
The Academy offers free classes in five workforce development tracks for students, along with other types of support.  "All five tracks have a literacy component," says Baltazar De Anda Santana, co-founder and executive director. "You need literacy to learn, make money and improve your life." Learn about how the Academy helped a student reach her goals recently.
The Academy's approach to combining literacy with workforce development and leadership is unique. Baltazar says, "Instead of putting students at the center of what we do, which can lead to them being a project, we make the student a partner."
These innovative concepts have led to success for the Latino Academy and its students. The Academy was named 2022 Nonprofit of the Year in the Wisconsin Leadership Community Choice awards, just 10 months after spinning off from the Vera Court Neighborhood Association to become an independent organization. And in May, the graduating class of students earning their GED and/or commercial driver's license (CDL) at the Academy was the largest ever.
"It was amazing and humbling to be honored with the award," Baltazar says. "We can't do our work alone. Among other partners, Wisconsin Literacy has been a big help. They supply the books we use, along with vouchers for GED exams, technical support and more."
The Academy's approach to partnership with local employers is unique, as well. Baltazar says, "We don't want to be considered a charity. We're an investment. We want to change stereotypes and talk with local employers, especially in manufacturing, information technology and transportation."