Meet Alma from Literacy Green Bay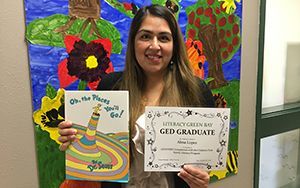 Alma Lopez graduated from the collaborative Literacy Green Bay/Northeast Wisconsin Technical College's Children First Family Literacy Program in 2019 with her HSED (high school equivalency diploma). She enrolled at NWTC and is currently in their Respiratory Therapy program. 
Alma is now a member of Phi Theta Kappa and maintains an impressive GPA, all while navigating the pandemic with 3 children, including two sons with autism. 
NWTC recently selected Alma as the Wisconsin Technical College System State Ambassador for 2021.
She sent the following email to Literacy Green Bay staff - Kelly Severson, Family Literacy Coordinator, Jamie Hornberger, her GED/HSED instructor, and Steve Lapacz, her program's math tutor. 
Hello Kelly, Jamie and Steve!

I hope this message finds you well.

I wanted to share the news with you that yesterday I was selected by NWTC as the WTCS state ambassador for 2021.

I cannot believe that I was honored with such a blessing!  

Over the past year I have accrued 51 college credits, had many sleepless nights and cried a river of tears trying to push through and keep going. I am also a proud PTK member and have been able to maintain a 3.54 GPA. I am currently still going and holding strong despite the many hurdles I have faced; COVID, Christian's passing, our kid's virtual learning (especially my autistic sons) and social distancing/being quarantined. 

I just wanted to say thank you for believing in me when I didn't. Thank you for accepting me and never judging me for my past mistakes. Thank you for opening the door of endless opportunities for not just myself but for many others before me and the many that will come after.

I have once again been inspired and motivated to keep pushing hard! I cannot express the feelings I have because I automatically start tearing up. 

Just thank you, I cannot say it enough. 

I cannot wait to see the places I'll go. 

Because you said,

"And will you succeed?
 Yes you will Indeed!
 98 and 3/4th percent guaranteed." -Dr.Seuss

With much appreciation, love and respect,
Alma
Give to Wisconsin Literacy to strengthen the life-changing work of literacy.