Meet Christine from Buffalo-Pepin Literacy Alliance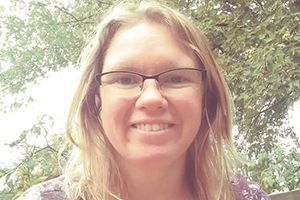 Christine, a cheerful person, was always interested in gaining skills to advance. However, when her son's teacher first mentioned Buffalo-Pepin Literacy Alliance at a parent-teacher conference, she wasn't sure it was the right time.
Then the COVID-19 pandemic hit and her work at the optometry clinic closed down, she seized that opportunity to improve herself at Buffalo-Pepin Literacy Alliance (BPLA).
When she was in grade school, she missed a lot of the information presented because she didn't have hearing aids.  "I didn't hear some of the things that were spoken and talked about through school," shares Christine. "I need to just advance from here."
Christine has been studying with a BLPA tutor for almost a year. Following safety guidelines and social distancing measures, she and her tutor work on writing and speaking skills. They share an interest in poetry and writing and have been working together on punctuation, wording, grammar, and forming sentences and paragraphs.  Christine's tutor records her as she speaks, so Christine can go back and listen to herself. This activity helps her identify growth opportunities and polish her speaking skills.
Christine has seen a lot of changes in herself since going to BPLA, noting that she has "more self-confidence… [and is] more aware of speaking and even sending emails at the optometry clinic if need be." She feels that she's "grown a different part of the 'backbone' so to say."
Give to Wisconsin Literacy to strengthen the life-changing work of literacy.
Christine recognizes there are adults who may be hesitant about going to a literacy agency, perhaps thinking, "I'm an adult. I should be there already." To that, Christine says, "if I could just stress to anyone… please, just do it for yourself."
Despite difficulties she faced at a younger age, Christine is proud of where she is going.  Now, she's a part of her local Toastmasters, a nonprofit educational organization that teaches public speaking and leadership skills.  She continually strives to be more involved and gain skills to keep moving forward.  
"I always tell my son, 'Make tomorrow better than yesterday,'" Christine says.
She definitely lives by that sentiment.