Meet Degly from Literacy Council of Sheboygan County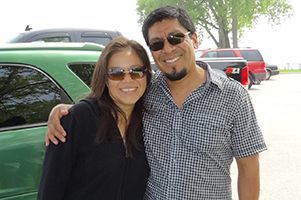 Degly came to the Literacy Council of Sheboygan County to learn to read, write, and converse better in English. He worked with his tutor Larry for five years, showing perseverance and determination to achieve his goals.
Larry helped Degly work on his English skills while also providing fun "American" cultural experiences. Larry taught Delgy the intricacies of American football, watching some games and discussing what happened. They bowled with a friend and enjoyed pizza. The exposure to more American accents helped Degly improve his conversation skills. The first year, he couldn't understand Larry's friend, but the next year he followed the conversation.
Carol Myers, Coordinator of the Literacy Council of Sheboygan County, shared, "Even when students have learned English, they may still struggle to follow along. But Larry's willingness to include Degly in these fun experiences helped Degly's conversational abilities improve."
In August 2019, Degly studied for his U.S. Citizenship test, often discussing the test study guide during tutoring sessions. He passed the test and interview in November 2019 and became a U.S. citizen in January 2020.
After years of hard work, Degly achieved success after success. He received several raises at his job, was promoted to foreman, and became the company interpreter.