Meet Francisco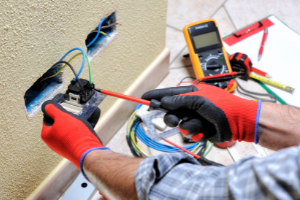 Francisco, a master electrician from Puerto Rico, moved to Wisconsin with his family a few years ago. Although he worked at the Walmart auto repair desk, he wanted to learn English to work as an electrician.
Due to the COVID-19 pandemic, he and his tutor used WhatsApp to connect. They used the same materials as each other thanks to the Department of Children and Families support. They live 45 minutes away from each other, so this new way of connecting also saved them time driving.
"They just talked over the phone and it worked. He increased his listening skills by an NRS (National Reporting System) level which is good!" shared Stephanie Stark, Program Coordinator, West CAP Literacy & Skills Enhancement Program. 
During a test, Francisco mentioned he was trying to get a job as an electrician, so Stephanie wondered if there was a way to help him.
She attended a Polk County Job Center meeting where Dawn Pratt, Apprentice Navigator, shared the need for skilled people to fill jobs. John Walsh, from the International Brotherhood of Electrical Workers (near Eau Claire), said, "We need people." They were filling electrician positions for the fall.
Francisco texted John to share his skills and interest. "I don't think he would have tried when I first met him," Stephanie shared. Stephanie reached out to Wisconsin Literacy staff to further help Francisco. They referred him to the Latino Academy of Workforce Development in Madison. This relationship from Polk County to Dane County exemplifies how our new ways of connecting virtually improves access to services.  
Now, he can work toward an OSHA (Occupational Safety and Health Administration) license in Spanish. Every day he gets closer to working his trade in the United States thanks to his determination.