Meet Jaime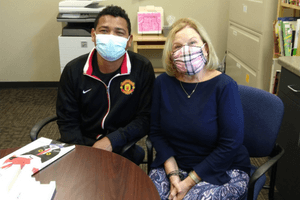 Jaime wanted to improve his reading skills, to help him in his custodial and maintenance position at the local high school. He also dreamed of more career opportunities and someday becoming a U.S. Citizen.
He'd gone to MATC (Milwaukee Area Technical College), but he wanted something with more flexibility and more "personal" service.  Then he and his wife heard about Adult Literacy Center of Ozaukee (ALC) in the media.
Jaime moved to the United States from Mexico about 10 years ago and had only completed a middle school education. He is fluent in English. Katie Eippert, Program Director, shared "when you're speaking with him, you would never guess that he didn't possess those literacy skills. He's really working hard to increase his literacy, so that he can improve his job, potentially get his GED."
ALC paired him with Mary Ellen, a former reading specialist. 
Mary Ellen said, "I have seen awesome progress in the 5 months we have worked together." His hard work has already lifted him from pre-literacy levels to third grade site words.
Jaime now reads to his kids and can help them with school.
He saw how effective tutoring was and spread the word about ALC. Jaime encouraged his brother to get a tutor and now his brother is improving his English skills at ALC.