Meet May Oo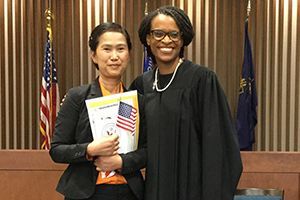 We sat down (virtually!) with May Oo, former student of the International Learning Program in Milwaukee for a chat about her journey in learning English.
By Victoria Deterding
Places like Neighborhood House's International Learning Program are really important, May Oo notes, nodding enthusiastically. "We need to learn English to understand this country," adding that it's also essential "for this country to understand us.''
May Oo and her 5-year old son arrived as refugees from Myanmar in 2013.  She began her journey in the United States like many other refugees, joining English Language classes. May first enrolled in English classes at the International Learning Program.  Later, she began taking citizenship courses there. She passed her U.S. citizenship exam in 2019. 
As she was studying to learn English and become a U.S. citizen, May was also raising her son and growing the sushi franchise she started in 2015. 
May Oo remembers back to her very first days as an entrepreneur. She had developed her skills in making sushi, yet felt shy about connecting with customers. She decided to follow her natural sense of curiosity as she worked.  She studied how to speak by listening to others while she made sushi. With a big smile, she began to engage with customers and with her neighbors. 
For May Oo, her efforts weren't only about speaking English, but also about growing her business and expanding her life.  May Oo continues to absorb English by watching movies and the news. She hops on the internet to perfect her pronunciation of words- repeating them out loud to get them right.  Her now twelve-year-old son is a great resource to helping her understand words that were once foreign. 
May Oo credits the International Learning Program with encouraging and supporting her; she truly developed great relationships with teachers there. She remembers their kindness with a smile, and will always cherish her memories and how they helped her along her journey.
Give to Wisconsin Literacy to strengthen the life-changing work of literacy.