Member Spotlight: Marinette and Oconto Counties Literacy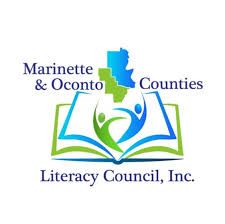 It all started with healthcare.  Janet Glime, President of Marinette and Oconto Counties Literacy Council, was working as a nurse when she noticed hospital patients struggling to read.   
One interaction, in particular, stuck with her. She shares: "This man said 'Do you know what it is like to walk in somewhere, to be asked to sign a form everyone else is signing, and you can't read it?' "
Janet realized that, no, she didn't know what it was like. She continued to consider other forms - at a school, in a courtroom, in a hospital. She tried to put herself in the man's shoes and realized how intimidating it would be to complete daily tasks many take for granted.
When she checked local literacy rates, she found that the highest need came from the rural areas.  With this in mind, the literacy council came to serve both Marinette and Oconto in Northeastern Wisconsin.  
The council put the word out to local social services and businesses and have a waiting list for students ever since.  
They also recruit retired teachers to tutor.  "We are blessed with some very good volunteers in this area," says Janet.  Some tutors travel far distances and take more than one learner to help out.  Their tutors meet in areas convenient for them – libraries, church centers, and the Coleman municipal building.
One of their first students was an English language learner, who worked as a waitress at the time.  She was a seamstress and wanted to start her own business. To do this, she needed to improve her English writing skills so she could read notes from her clients and write notes back to them.  
After studying with her tutor to improve her communication skills in English, she was able to open her own business, making wedding gowns and alterations.    
Marinette and Oconto Counties Literacy Council focuses on each learner's end goal. With a one-to-one tutor-learner model, each tutor can tailor instruction to specifically target what their learner wants to accomplish. As the learner and tutor get to know each other a bond forms between them.  Janet says, "I love it when I get to meet with a learner and tutor and I hear laughter.  That's so different from when you first meet with a student and they are shy."
Even though the council focuses on adult learners, when one person in the family learns to read or speak English the whole family benefits.  Janet has a poster in her office that says, 'Helping one person has an impact 1,000 times greater than helping 1,000.'  Marinette and Oconto Counties Literacy Council is an excellent illustration of the amazing impact focusing on individual learners and personalized support can have.