Member Spotlight: Walworth County Literacy Council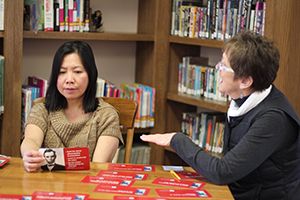 After Judy Stone, the founder of Walworth County Literacy Council (WCLC), retired as a math teacher, she didn't stop looking for opportunities to help educate others.  She realized that Walworth County had a sizable non-English speaking population and a smaller population of native English speaking adults who were unable to read and write.  
With no literacy council, there was limited support available to these populations.  She devoted her time to addressing the pressing literacy issues in Walworth and started building a literacy council from the ground up.
Now, WCLC helps adults in Walworth County achieve their educational goals, primarily through one on one instruction meeting once or twice a week.  These pairs work on reading, English as a second language, citizenship preparation, and G.E.D. preparation.
In 2008, the council also started a successful jail tutoring program where inmates learn math, reading and writing.
WCLC collaborates with the county government, workforce development board, job center, libraries, schools, community groups, county jail, Gateway Technical College and Racine Literacy Council.  
WCLC improves the quality of life for residents of Walworth and provides needed literacy services to hundreds of students.
Give to Wisconsin Literacy to strengthen the life-changing work of literacy.