Omega School: Whatever It Takes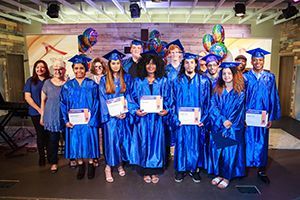 "What is different about Omega is I personally interview everyone," shares Oscar Mireles, Executive Director of Omega School. "Because the students are the most important asset we have."
Omega School, based in Madison, Wisconsin, has been around for almost 50 years and their niche is helping adults prepare for the GED who don't have the skills, parental support, and financial support to take and pay for the test. Some have children and others are dealing with issues like depression and anxiety. Omega School students might have attempted to get their GED before and "they've gotten to a certain point where they are sort of stuck."
"The classroom environment is a place that they didn't find success at a traditional school setting." Omega School partners with the GED program at Madison College and for students that struggle with that program Omega offers something different. 
When a student first comes to Omega School, they discuss their needs, do an initial assessment and get a sense of how much support they need. Omega School offer one-on-one instruction with an instructor who knows and can teach across all four subject areas. 
They do whatever they can to help their students find success. They remove as many barriers as possible. They partner with Wisconsin Literacy (WL) through the Department of Children and Families grant to get their students GED ready and test vouchers, bus passes, and gas cards. They even offer free childcare. 
"We've always budgeted in a lot of the support because a lot of our students don't have that. Even if it doesn't seem a lot for a test, if you don't have it you don't have it," says Oscar.
Some volunteers work with students who are between the 5th and 8th grade reading level and who need more one-on-one support.  They help students learn how to not be overwhelmed. 
Oscar shares, "We see a lot of people who are overwhelmed with the fact that they missed school. Now they haven't had a diploma for a while and they start to feel like it is never going to happen. Everything happens, it just takes time and effort. You have to be willing to put in the time and effort."
Since COVID-19, they created an online enrollment system. "But in virtual, it is so accessible that it is inaccessible because there is no sense of urgency," says Oscar. The previous in person onboarding process for their students used to take about 1 to 2 sessions, but now can take up to 6 weeks to get all of the paper work through. 
To help their students through the process, they assigned one staff person whose only job is onboarding students and doing follow-up to make sure they complete the application and assessments virtually. 
Now, students use cellphone apps like Learning Upgrade and GED Academy to access remote instruction. The staff stays in communication with students and provides support.
When the Safer at Home order was first lifted, they had about a dozen students take tests in Appleton, Wisconsin. They provided gas cards and covered test costs for students to take the GED. Since then, students have taken the test in Appleton, Waukesha, Milwaukee, Watertown, and Janesville.
 "We have tried to figure out whatever it takes to get a student to take the test and move on to their next thing," says Oscar.
WL helps, in part, with that support to students. WL provided the initial support to do the GED Academy for the first 25 seats. With WL, Oscar shares, "I feel a part of something bigger. Sometimes this work gets lonely and you feel like you are in isolation. It is nice to be a part of something bigger."  
Give to Wisconsin Literacy to strengthen the life-changing work of literacy.