Portage County's New Normal: Literacy Lessons During the Time of COVID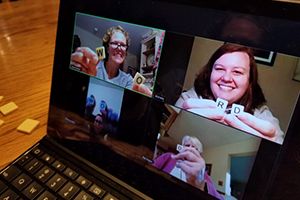 By Victoria Deterding
We sat down (virtually!) with Kristy SeBlonka, Co-Director of Portage County Literacy Council for a chat about tutoring and offering literacy support during the pandemic.
"Yeah, we're still online," Kristy SeBlonka notes with a smile. For the remaining summer and Fall 2020 semester, the Co-Director of Portage County Literacy Council will look for tutors willing to go virtual.  
"Any of the tutors coming out in fall" she adds, will "have to be comfortable tutoring online – that's just the way it is right now."
Ms. SeBlonka's statements resonate statewide, as literacy agencies move their services online. With safety measures, shifting public health information, and local resurgences of the COVID-19 pandemic, the landscape of literacy tutoring is changing. 
In Portage County, it took a bit of adjustment for some learners and tutors – while other pairs adapted quickly. Luckily, with some patience, training and support from the local Literacy Council, several pairs have been set up with their virtual connection - Zoom, Facebook Live, WhatsApp, and the classic telephone call. 
Speedy computer and smartphone skills, knowledge of online applications, and facility with screen sharing and video conferencing – these might seem like a natural fit to the younger generation. SeBlonka does anticipate that many students from UW-Stevens Point will be continuing to tutor for the rest of the year. 
For learners of all ages who have issues with transportation, childcare, or complicated schedules, the online platforms may prove convenient. Online access could be a permanent shift for some learner and tutor pairs. 
For those who are less keen on tutoring online, SeBlonka still encourages connection. In the true spirit of community, tutors help their students feel supported. "Call and check in with your learner. Say hello. Let them know that you're thinking about them, because we all need that right now."
The pandemic changed their approach to fundraising and events as well. Relying heavily on their annual fundraising event, Portage County moved it online in April. It was a success, thanks to a marketing volunteer, a spirit of fun and flexibility, and participation from their tutors and community. On the positive side, Facebook may have allowed them to reach a wider audience than an in-person event. And seeing tutors post personal messages and sharing about the importance of the services at the Literacy Council was gratifying.
Relationships with funders and the local community remain strong. Yet in these uncertain times, SeBlonka also wanted to take the pressure off during their online event. She remains sensitive to the fact that for local businesses and sponsors, and individuals who donate, current times may be tough. 
SeBlonka stated her agency will stay online for the fall semester, with a limited process for meeting in person outside with masks. This might be the new future of tutoring; connection and support, while also ensuring safety. Spread out across the community, online or outside with masks.
It will be the same mission of empowering through literacy skills, with a new normal.
Related Resources Available from Wisconsin Literacy:
Give to Wisconsin Literacy to strengthen the life-changing work of literacy.