Rise Up to the Challenges: JCLC Nimbly Adapts to COVID Pandemic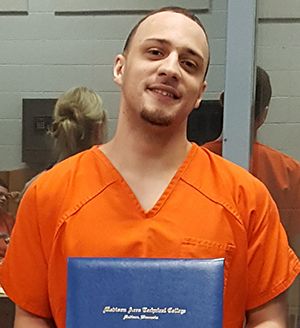 For 20 years, Jefferson County Literacy Council (JCLC) has served community members who want to improve their reading, writing, math, and job skills.  JCLC delivers adult education, English as a Second Language, GED preparation in both English and Spanish, U.S. Citizenship, and jail literacy programs across eight different communities without interconnecting transportation.  JCLC has a history of rising to meet challenges. 
"I think now more than ever literacy is a huge challenge," Lynn Forseth, Executive Director of JCLC, shares, "Many of the jobs that our learners have historically held -- restaurant work, service occupation, or retail -- are likely just going to disappear.  People are going to have to retool and ramp up their skills in order to become employable."
Currently, JCLC provides both virtual Zoom and in-person instruction with social distancing and masks.  Virtual instruction is going well as JCLC conquers the challenges of getting people connected, making sure they have the proper technology, and the skills to use it.  
JCLC's blended approach addresses students' needs for flexibility: "Right now their lives and their schedules are very challenging – both with having their children home in many cases and their jobs.  Some have lost jobs and some are working more hours than ever.  They are all pretty stressed and pretty challenged with their home lives."
Most impressively, JCLC has adapted to continue offering timely and high-quality instruction to adult learners in their local jail. Literacy staff hasn't been able to physically visit the jail since March, and the strict internet security restrictions make virtual instruction challenging.  Thinking creatively and strategically, JCLC now tests learners through the glass visitation booths, provides physical study packets for individual learners, and locks up the wireless keyboard and mouse so students can receive Zoom lessons.  JCLC has even purchased GED study buddy units to offer rigorous GED preparation without the need for internet. To learn more, watch Lynn Forseth's "Jail Literacy Programming During COVID" at https://youtu.be/8RT9CknsYsk from our Virtual Fall Conference.
Wisconsin Literacy's professional development also helped them tremendously through the COVID-19 pandemic.  "Wisconsin Literacy responded very quickly when COVID hit -- putting up the Thursday morning chats and letting agencies share with each other as to what they were doing and what strategies they were utilizing. It really helped us feel connected to the other agencies and to feel like we are not alone."
The impacts of COVID will continue into the next generation as K-12 children struggle to get through their education either virtually or with frequent interruptions.  This impact will be most significant for children of low income families with parents who already struggle with English and/or technology skills.  To combat that, Lynn said, "We're thinking about the future and how we can best position ourselves to serve maybe not just adults, but people of all ages who are going to be impacted by the pandemic."
JCLC continues to think creatively and adapt to whatever changes the future brings to Jefferson County.
Give to Wisconsin Literacy to strengthen the life-changing work of literacy.