Stateline Literacy Council: A Tightknit Community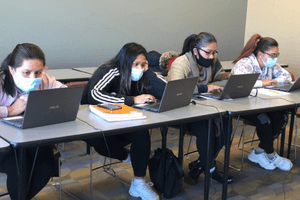 Stateline Literacy Council (SLC) is a long-standing organization that provides English language classes as well as Spanish GED preparation serving a large population of non-native English speakers in the Beloit area.
SLC has adapted overtime. After almost closing their doors in 2016, they have reinvented themselves and even expanded, thanks to a group of very committed staff, volunteers, and community partners.
Leeanna Shultz, Program Coordinator, shared, "I'm proud of the work that we're doing and the necessity for the work that we're doing. We are kind of the hub. We try to connect people with any resources that is going to help them - whether it's us or someone else."
With the COVID-19 pandemic, their adaptation continued. In Leeanna's words, "This moment is one of constant adaptation, because we don't know anything about what the future will hold. We really didn't before, but we were self-assured that things were going to just be the same. But now we've seen that things can change in a way that no one quite expected."
The pandemic heavily impacted SLC's community. In particular, the adult learners with school-aged kids who used to attend English and GED classes during the day stopped coming because their kids' schools were closed. This sector of SLC's learner population is still recovering.
Virtual instruction was another challenge and adaptation. Though SLC classes have since returned to in-person instruction, virtual learning is a tool SLC can always call on in the future. They will retain and continue to grow the skills they developed when the pandemic necessitated online learning options.
Throughout the pandemic, Wisconsin Literacy encouraged SLC staff to stay connected with other literacy agencies. Wisconsin Literacy also provided resources, training, and access to implement virtual instruction. Leeanna shared, "Just providing that support and saying 'We've got a resource on that' or 'I can connect you to someone who already does this.' It really, for us, has been a critical lifeline."
SLC seized the opportunity of the smaller class sizes to increase the focus of their curriculum. Leeanna said, "We're focused on specific workplace skills, workplace English, or really digging in deep with the needs assessment with students and seeing what it is that they want and helping them ask themselves questions like where do they use English or where do they want to be able to speak or write something. The more targeted the better." 
They began collecting that information and turning it into a curriculum that more closely matched students' needs. Each student comes with individual motivations for learning English or getting their GED. For some, it means they can communicate better at work or with friends and for others it's a path to a better job or to pass their citizenship test.
Leeanna said, "We often focus the conversation of outcome measures around economic impacts. That's important. People need to be able to make enough money to survive here, but I think ultimately it's about much, much more than that. It's about pride. It's about self-improvement. It's about community. It's even about a cultural awareness."
When it comes to the students, SLC has created a tightknit community. Students share their motivations and inspire each other. SLC creates a classroom culture where students are comfortable and willing to learn from and grow with each other. 
"That is where the community starts to thrive and build something that last beyond that one class," said Leeanna. "I have students from my first year of teaching who are still friends. That community came out of their willingness to be vulnerable with each other. For me as someone on this journey with them as an instructor in English, but also as a human, it really means a lot to me to see that come out of the English language learning experience."