Winnebago Area Literacy Council: The Road to Work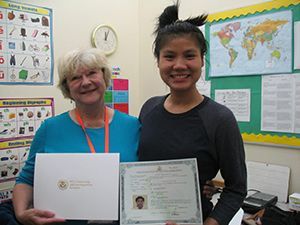 "Literacy and poverty are closely related. Strong communities rely on diverse backgrounds to ensure the health and vitality of all." says Tom Perry, Executive Director of Winnebago Area Literacy Council (WALC). WALC strives to make sure all residents in Winnebago community thrive.
"What make [WALC] unique is that we are 100% learner-centered," shares Tom. He is particularly proud of their Road to Work (RTW) program. 
RTW provides refugees and immigrants with vocational literacy training to help them obtain employment. RTW helps program participants use their skills to reach their full potential in the workforce.
In their RTW program, all participants have individualized educational and employment plans. Nubia Torres, a recent participant, immigrated to the USA in 2016 from Mexico when her husband relocated to work with one of the biggest manufacturing companies in Wisconsin. She has a Ph.D. in Mechanical Engineering, but needed help with conversational English and employability skills.
The Road to Work program set her up with a Vocational Services Director to improve job readiness, focusing on Nubia's specific goal of preparing for job interviews. 
The program's one-to-one sessions helped her learn how to:
create a resume,
write cover letters, and
apply for jobs on-line. 
During COVID-19, WALC converted to a 100% virtual model. Now, they are developing hybrid versions of all programs. Wisconsin Literacy supported them with access to technology, tools for record keeping, and instructional resources for effective programming. 
"Knowledge is power and contributes to healthy communities," shares Tom. WALC's free educational and employment programs meet the literacy needs of their diverse community and focus on individual learners.
Give to Wisconsin Literacy to strengthen the life-changing work of literacy.