Concurrent Breakout Session A (Tues, April 4, 1:15 - 2:15 pm)
A1: Beyond Plain Language: Strategies to Engage Patients and Improve Outcomes
Geri Lynn Baumblatt, MA, Executive Director of Patient Engagement, Emmi;
Tarah Knaresboro, Interactive Communication Design Manager, Emmi

Improved patient engagement is a key component of health literacy. While clinicians and patients work to communicate and build trust during their usually too-brief encounters, a number of factors impede productive communication: power dynamics, challenging topics, impression management and feelings of shame. Consider how anxiety impacts scheduling a colonoscopy appointment or feeling the shame of previous quit smoking attempts. This session will look at strategies gleaned of over a decade of patient-engagement design and research to motivate people to move from intention to action or to engage in treatment decisions. Participants will hear about the impact of these strategies and will discuss and practice at least one of them in a small group.
 
A2: Getting Started with Health Literacy Improvement Using the Revised AHRQ Universal Precautions Toolkit
Cindy Brach, M.P.P., Senior Health Care Researcher, Agency for Healthcare Research and Quality

Experts recommend assuming anyone may have difficulty with health literacy. The AHRQ Health Literacy Universal Precautions Toolkit, 2nd Edition provides evidence-based guidance to adult and pediatric practices to ensure that systems are in place to promote better understanding by all patients. The toolkit is divided into manageable chunks so that its implementation can fit into the busy day of a practice. Participants will learn the process of conducting a Primary Care Health Literacy Assessment, identifying aspects of their practice that are priorities for improvement and creating a Health Literacy Improvement plan to implement the tools to help them improve health literacy. 

A3: Building Your Own Toolbox: Addressing Health Literacy and Self-Efficacy to Empower Patients
Karen Hernes, MSN, RN, CNE, Assistant Professor, Purdue University Northwest College of Nursing;
Margaret Carter Richey, Ed.D, MSN, RN, Associate Professor, Benedictine University, Lisle, IL, College of Education and Health Services, Department of Nursing & Health

The purpose of this highly interactive session is aimed for those who provide patient care and patient education. Participants will be provided with useful tools to identify and evaluate practice needs as well as build their own "toolbox" to address health literacy and self-efficacy complications, and ways to promote patient empowerment and improve patient teaching in diverse practice settings. Through active discussion and sharing of examples, participants will assess and discuss barriers that prevent maximum health literacy and analyze guidelines for communicating with patients both verbally and in writing.  Multiple activities are planned for both small and large group participation.
 
A4: Why Healthy Communities Need Adult Basic Skills Education: A Call to Action
Iris Feinberg, PhD, Associate Director, Adult Literacy Research Center, Georgia State University;
Maricel G. Santos, Ed.D, Associate Professor of English, San Francisco State University;
Julie McKinney, MS, Independent Consultant with McKinney Health Services, HL Discussion List Moderator, Institute for Healthcare Advancement

Adults with low basic literacy skills are less able to manage health conditions and adhere to medication or other discharge instructions. They are also less likely to seek health information and often have lower income. Each year, approximately 1.8 million primarily lower-income adults participate in adult basic education (ABE) programs to improve literacy skills, which can increase the ability to understand and use health information. This presentation will focus on the interdependency of literacy skills, poverty and health. Specifically, it will address why and how literacy, health advocacy, health promotion and health care organizations can contribute to reducing poverty and income inequality, as well as work toward reducing systemic health disparities. For more information ahead of the Summit, you can view the Open Door Collective white paper, "Why Healthy Communities Need Adult Basic Skills Education."
A5: Building Support and Enthusiasm for Health Literacy
Helen Osborne, M.Ed., OTR/L, President, Health Literacy Consulting, founder of Health Literacy Month, and host of the podcast series, "Health Literacy Out Loud" 

You know that health literacy matters. But are others around you equally aware, active, and enthused? Unfortunately, sometimes the answer is no. Structured more as a conversation than presentation, in this session Helen Osborne will encourage participants to brainstorm ideas and share suggestions about meaningful, realistic ways to build support for issues participants recognize as vital to those they care about, and care for. These ways can be as varied and creative as people want, including educational workshops, community fairs, online and in-person contests, local and statewide proclamations, publicity campaigns, award ceremonies, and more!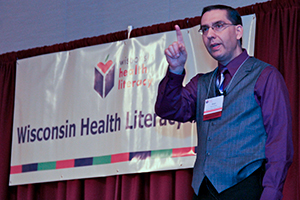 Health Literacy Summit
Over 350 people attended the 2017 Wisconsin Health Literacy Summit, which focused on how improved health literacy can help individuals become more engaged with their health and healthcare.

An additional 80 individuals attended the Medication Label Summit centering on how improving prescription drug labels can help patient understanding. Visit our Summit page for more information.