Concurrent Breakout Session A (Tues, April 2, 1:15 - 2:15 pm)
A1: Up Close with Dr. Dean Schillinger
Dean Schillinger, 


A2: Health Literacy Starter Kit:  Basic Information and Resources for the Newcomer
Paul D. Smith, MD, Medical Advisor, Wisconsin Health Literacy, and Professor, University of Wisconsin-Madison Department of Family Medicine and Community Health

Whether you're new to the field, want to brush up on the latest information and resources or just ask a few questions, this session is for you.  Dr. Smith will start with a review of basic concepts for literacy and health literacy as they relate to health and healthcare including suggestions for learning more about health literacy and review a variety of easily available useful resources.  With plenty of time for questions, this session is a great way to kick off the conference.

A3: Roundtable Networking with Literacy Agencies
Moderated by an Invited Panel
This session provides the opportunity for literacy agencies and community partners to talk about current health literacy initiatives, challenges, successes and future possibilities. Participants will choose three back-to-back 20-minute discussions to join.  Each discussion will have a facilitator, and will be targeted and interactive. Topics include:
Hosting Health Workshops 

Health Literacy Curriculum and Classes 

Dental and 

Nutrition Programs 

Connecting with Local Healthcare Agencies 
A4: Infusing Health Literacy into Program Design
Diana Gonzalez, MPH, CHES, Health Education Specialist, Institute for Healthcare Advancement (IHA);
Olga Molina, Peer Health Promoter, Institute for Healthcare Advancement (IHA)
During this interactive workshop, participants will walk through the process of incorporating health literacy best practices into program design.  The CARE program will be used as a model to describe how our team implemented a communitywide promotora program that uses best practices such as a communitywide needs assessment and incorporating teach-back into curriculum design.  Participants who attend this session will hear how a promotora engages the senior population and will walk away with practical tips that can be implemented into their current programs.
 
A5: Practical Skills for Health Professionals to Communicate Clearly with Non-native English Speakers
Sara Finesilver, English as a Second Language Faculty, Madison College;
Ryan Roling, English as a Second Language, Madison College 
This presentation explores how to best empower non-native English speakers (NNES) by building rapport, awareness of communication strategies, and comprehension checks. Through engaging activities, participants will gain a broader and deeper understanding of the NNES experience in a health care setting, while raising awareness of their perspectives. Participants will hear firsthand accounts (via video) from local NNES regarding their challenges in healthcare settings. These testimonials will describe ways NNES are building communication skills to better navigate the US system of healthcare, as well as give advice to medical professionals on how practitioners can help bridge the communication gap. Participants will add to their "toolkit of strategies" to enhance their interactions with NNES as they journey together on the road toward complete health literacy.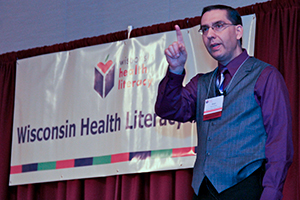 Health Literacy Summit
Over 350 people attended the 2017 Wisconsin Health Literacy Summit, which focused on how improved health literacy can help individuals become more engaged with their health and healthcare.

An additional 80 individuals attended the Medication Label Summit centering on how improving prescription drug labels can help patient understanding. Visit our Summit page for more information.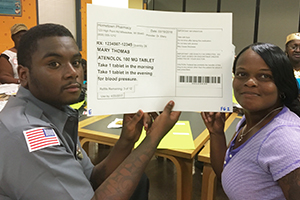 Medication Label
Wisconsin Health Literacy is working with a patient advisory council to design easy-to-read medication labels.  Our work has impacted about 3 million prescription labels in Wisconsin.  Read more about this project.