Concurrent Breakout Session C (Tues., April 4, 4:00 - 5:00 pm)
C1: Exceptional Lives: Interactive Online Guides for Parents of Kids with Disabilities
Anne Punzak Marcus, MS, co-founder and Board Chair of Exceptional Lives, Inc.;
Julie McKinney, MS, Independent Consultant with McKinney Health Services, HL Discussion List Moderator, Institute for Healthcare Advancement

While there are many health literate resources, there is still a large gap in filling the information needs of parents of children with disabilities. These families are faced with complex medical and educational choices and must navigate extremely complex processes in order to get the services, benefits, and education that their children are entitled to. In this session, we will demonstrate the free, online, interactive Guides created by Exceptional Lives. These plain language Guides walk parents through processes like getting Early Intervention, writing an IEP (individualized education plan), or making the most of their health insurance. The presenters will also seek feedback for improvement and new topics that the attendees see as important to address. 

C2: Implementing Health Literacy at Your Organization: Using the Roundtable on Health Literacy as a Resource
Melissa G. French, M.S., Program Officer, Health and Medicine Division of the National Academies of Sciences, Engineering, and Medicine and staff member on the Roundtable on Health Literacy
The Roundtable on Health Literacy has highlighted groundbreaking work on key health literacy issues through its workshops, including introducing the 10 Attributes of a Health Literate Organization in 2012. This session will share strategies presented at these workshops by international experts which have the greatest potential to advance health literacy. Included will be practical information, for example, on how to improve patient and consumer understanding of numerical information, informed consent procedures, after-visit summaries and discharge instructions, and shared decision-making.  Detailed information will be available in materials published by the Roundtable, which is part of the National Academies of Sciences, Engineering and Medicine.

C3: Teaching Teach Back to Facilitate Joint Decision Making
Doris Ravotas, PhD, Coordinator of Interdisciplinary Health Services, Western Michigan University

Health care practitioners need to learn to present information in an understandable format that does not overwhelm their patients and to use teach back to check for understanding. They also need to understand what patients' previous understanding and viewpoint are to facilitate joint decision making. Too often practitioners are taught teach back skills in isolation without an understanding of the patient's view. In fact many of the public videos that are used for teaching teach back illustrate a "closed" approach that undermines joint decision making. This workshop presents a tiered approach to teaching teach back that facilitates joint decision making rather than blocking it.

C4: A Framework for Converting Adult Learners' Experiences into Health Literacy Curricular Materials
Maricel Santos, Ed.D., Associate Professor of English, San Francisco State University
The health literacy field needs more tools that engage adult learners in (1) the active creation and interpretation of health information, and (2) the reconciliation of conflicting health-related messages. This presentation focuses on a health literacy curricular framework anchored in principles of learner-centered pedagogy and patient-centered engagement. Core themes are identified by the adult learners and teachers through collecting students' concerns and narratives about their lives, and turning these into vignettes and exercises for adult literacy classroom. Using these, the presenters have developed materials related to lead poisoning prevention, diabetes prevention, and mental wellness for diverse adult ESL contexts. This session can strengthen collaborations between adult literacy and public health and inspire new directions in health literacy curriculum development.  
 
C5: How can they do what you want them to do if they don't understand what you said?  Eight Steps to Better Communication
Steven Sparks, MS, Health Literacy Director, Wisconsin Health Literacy
You know health literacy is a problem and that it affects a lot of people.  But what can you personally do to make sure your communications have the best chance of being understood by everyone? This session will cover 8 steps to Better Communication, evidence-based principles and techniques designed with health literacy in mind but useful in every aspect of your professional and personal life. Ranging from plain language to verifying understanding to help with numbers, you'll practice techniques and take home practical information you can start using tomorrow.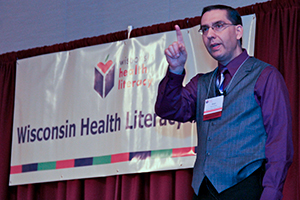 Health Literacy Summit
Over 350 people attended the 2017 Wisconsin Health Literacy Summit, which focused on how improved health literacy can help individuals become more engaged with their health and healthcare.

An additional 80 individuals attended the Medication Label Summit centering on how improving prescription drug labels can help patient understanding. Visit our Summit page for more information.