Concurrent Breakout Session D (Wed., April 5, 10:45 - 11:45 a.m.)
D1: Smart Use Health Insurance™: Smart Actions for Using Your Health Insurance
Virginia Brown, DrPH, Doctor Minor, Extension Educator, University of Maryland Extension
Recent research shows that consumers are confused about effective health insurance use; this includes not understanding what their plans cover, not understanding health insurance terms mean, and underestimating costs. One approach to improving health insurance use is to educate consumers on best practices to using their health insurance plan. This session will present an educational program that offers seven strategies for using health insurance effectively to reduce cost and improve health. Health educators and public health officials will learn about one tested method available to increase health insurance literacy. 

D2: Up Close with Dr. Winston Wong (see Special Sessions)

D3: Make Informed Consent an Informed Choice: Tools from AHRQ
Cindy Brach, M.P.P., Senior Health Care Researcher, Agency for Healthcare Research and Quality

Even after signing a consent form, patients are often confused by the benefits, harms, and risks associated with medical treatments and procedures and their alternatives. This violates the principles of informed consent, and can lead to unwanted medical care, errors and malpractice suits. The Agency for Healthcare Research and Quality (AHRQ) commissioned two training modules to improve informed consent practices, one for hospital leaders and one for health professionals. Learn about these training modules which include 10 health literacy strategies that can be used for improving the informed consent process.
D4: Connecting with Other Organizations to Address Health Literacy:  A Collective Impact Model
Dennis Johnson, Managing Partner, Sort Sol Group
Ben Williams, Managing Partner, Sort Sol Group

Join us for a look at a collaboration model that may help you connect your health literacy initiatives to other important stakeholders in your community or region. Whether your work is in adult education or healthcare, the Collective Impact model is helping organizations work upstream to address root-cause issues. The Collective Impact model is a disciplined, cross-sector approach to solving social and environmental problems on a large scale. Since 2011, hundreds of new collaborations have begun implementing the principles of collective impact in a variety of domains around the globe. Collective impact ideas have also started to influence public policy. 
D5: Communicating with Refugees on Health
Kari LaScala, JD, Health Communications Specialist, Wisconsin Health Literacy;
Omar Eliwa, Compounding Pharmacist, Clinical Services Manager, Hayat Pharmacy

Understanding and using medicine properly can be challenging for those who have lived in America all their lives and speak English as their first language. Imagine how much more difficult this may be for refugees and immigrants. With that in mind, Wisconsin Health Literacy embarked on a two-year project to help these populations better understand and use their medicines. This session will focus on the health literacy successes, challenges and lessons learned in working with such diverse groups. Attendees will also hear a pharmacist's perspective and strategies to help overcome potential barriers so that healthcare professionals and others can more effectively address the health needs of refugee and immigrants.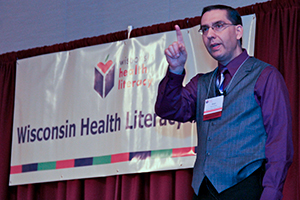 Health Literacy Summit
Over 350 people attended the 2017 Wisconsin Health Literacy Summit, which focused on how improved health literacy can help individuals become more engaged with their health and healthcare.

An additional 80 individuals attended the Medication Label Summit centering on how improving prescription drug labels can help patient understanding. Visit our Summit page for more information.