Concurrent Breakout Session E (Wed., April 5, 1:15 - 2:15 p.m.)
E1: Helping Consumers Become More Engaged with Their Health Care and Health Insurance
Stephanie Severs, MA, Health Insurance Literacy Lead at Covering Wisconsin;
Kari LaScala, JD, Health Communications Specialist, Wisconsin Health Literacy 
This session will explore approaches to helping consumers understand health insurance, health care quality and the importance of becoming more engaged in their health and health care.  Results will be shared from a two-year pilot project focusing on consumers with lower literacy skills and/or new to health insurance.  Findings provide useful guidance in how to communicate complicated health information, such as choosing and using health insurance, when to use the ER vs. primary care, and how to evaluate the quality of a provider. Attendees will learn of evidence-based materials and services available to use with their clients or members. 
 
E2: Do You Have CLAS? Building Infrastructure for Health Literacy in an Academic Medical Center
Marina De Pablo, Clinical Nurse Educator, Center for Nursing Professional Practice and Research, University of Chicago Medicine;
Katherine Pakieser-Reed, Executive Director, Center for Nursing Professional Practice and Research, University of Chicago Medicine

An interprofessional Patient Education Committee is embedding the National Standards for Culturally and Linguistically Appropriate Services in Health and Health Care (CLAS) into standard work in a large academic medical center. The CLAS Standards represent best practice for patient education. The process to develop the committee, and gain leadership support will be shared, as will translation of documents into plain language, interpreting services, translation of documents to other languages, and standardization of vendor resources.  Outcomes such as organization-wide assessment, development of a central website for patient education resources and tools, and metrics to track patient education will also be discussed.  Learners will work in small groups to draft objectives for their own organizations. 

E3: International Health Literacy Association (IHLA): Learn More, Get Involved, Spread the Word
Sabrina Kurtz-Rossi, M.Ed., Assistant Professor of Public Health and Community Medicine at Tufts University School of Medicine;
Robert A. Logan, PhD, National Library of Medicine
The dream of an International Health Literacy Association (IHLA) is now a reality. Come to this unifying and mobilizing session to inaugurate and celebrate the forming of IHLA. You will hear excerpts from the launch of the International Health Literacy Association 2016 Report that documents IHLA events in Geneva, Washington, D.C., and Vietnam. The events featured hopes and dreams for IHLA from Europe, Asia and North America. Visit the IHLA website and spread the word: http://www.i-hla.org/will be run by and for its members. Join this session to learn more about how to get involved.
E4: "So, What Does Health Literacy Mean to You?": Asking Culturally Proficient Questions to Implement Health Literacy Initiatives
Virginia Brown, DrPH, Doctor Minor, Extension Educator, University of Maryland Extension;
R.V. Rikard, PhD, Senior Postdoctoral Research Associate, Department of Media and Information, Michigan State University

Understanding and valuing different cultures is essential to designing and implementing health literate initiatives in focus groups and in organizations. The session begins with an introduction to cultural proficiency as a mind-set that shifts from viewing cultural difference as problematic to learning how to interact effectively with other cultures. Participants will identify values and behaviors that are barriers to cultural proficiency, and learn tips on how to ask culturally proficient questions to design appropriate health information and implement tailored health literacy initiatives. Participants will leave with resources and skills to help increase the health literacy of diverse populations.
 
E5: Integrating Health Literacy into Practice: A Public Health Approach Using the Newest Vital Sign
Krystal Rafenstein, BSN, RN, Clinical Services Coordinator, Cudahy Health Department
Katie Lepak, MS, Health Officer, Cudahy Health Department

The ability to understand basic health information has considerable implications for the individual and the community. Often times barriers to understanding are perceived as non-compliance or lack of motivation to change; however, a deeper investigation reveals a root cause to be the individuals limitations related to health literacy. Seeking an evidence-based approach to address health literacy, the Cudahy Health Department (CHD) implemented the Newest Vital Sign, a validated tool that assess health literacy skills for both numbers and words. During this presentation, participants will learn why the CHD selected this tool, modifications in teachings as a result, and the clients' perspective.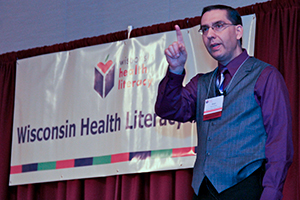 Health Literacy Summit
Over 350 people attended the 2017 Wisconsin Health Literacy Summit, which focused on how improved health literacy can help individuals become more engaged with their health and healthcare.

An additional 80 individuals attended the Medication Label Summit centering on how improving prescription drug labels can help patient understanding. Visit our Summit page for more information.