Concurrent Breakout Sessions A - E
Concurrent Breakout Session A (Tuesday, April 4, 1:15 – 2:15 pm)
A1: Beyond Plain Language: Strategies to Engage Patients and Improve Outcomes
Geri Lynn Baumblatt, MA, Executive Director of Patient Engagement, Emmi;
Tarah Knaresboro, Interactive Communication Design Manager, Emmi

Improved patient engagement is a key component of health literacy. While clinicians and patients work to communicate and build trust during their usually too-brief encounters, a number of factors impede productive communication: power dynamics, challenging topics, impression management and feelings of shame. Consider how anxiety impacts scheduling a colonoscopy appointment or feeling the shame of previous quit smoking attempts. This session will look at strategies gleaned of over a decade of patient-engagement design and research to motivate people to move from intention to action or to engage in treatment decisions. Participants will hear about the impact of these strategies and will discuss and practice at least one of them in a small group.
 
A2: Getting Started with Health Literacy Improvement Using the Revised AHRQ Universal Precautions Toolkit
Cindy Brach, M.P.P., Senior Health Care Researcher, Agency for Healthcare Research and Quality

Experts recommend assuming anyone may have difficulty with health literacy. The AHRQ Health Literacy Universal Precautions Toolkit, 2nd Edition provides evidence-based guidance to adult and pediatric practices to ensure that systems are in place to promote better understanding by all patients. The toolkit is divided into manageable chunks so that its implementation can fit into the busy day of a practice. Participants will learn the process of conducting a Primary Care Health Literacy Assessment, identifying aspects of their practice that are priorities for improvement and creating a Health Literacy Improvement plan to implement the tools to help them improve health literacy. 

A3: Building Your Own Toolbox: Addressing Health Literacy and Self-Efficacy to Empower Patients
Karen Hernes, MSN, RN, CNE, Assistant Professor, Purdue University Northwest College of Nursing;
Margaret Carter Richey, Ed.D, MSN, RN, Associate Professor, Benedictine University, Lisle, IL, College of Education and Health Services, Department of Nursing & Health

The purpose of this highly interactive session is aimed for those who provide patient care and patient education. Participants will be provided with useful tools to identify and evaluate practice needs as well as build their own "toolbox" to address health literacy and self-efficacy complications, and ways to promote patient empowerment and improve patient teaching in diverse practice settings. Through active discussion and sharing of examples, participants will assess and discuss barriers that prevent maximum health literacy and analyze guidelines for communicating with patients both verbally and in writing.  Multiple activities are planned for both small and large group participation.  

A4: Why Healthy Communities Need Adult Basic Skills Education: A Call to Action
Iris Feinberg, PhD, Associate Director, Adult Literacy Research Center, Georgia State University;
Maricel G. Santos, Ed.D, Associate Professor of English, San Francisco State University;
Julie McKinney, MS, Independent Consultant with McKinney Health Services, HL Discussion List Moderator, Institute for Healthcare Advancement

Adults with low basic literacy skills are less able to manage health conditions and adhere to medication or other discharge instructions. They are also less likely to seek health information and often have lower income. Each year, approximately 1.8 million primarily lower-income adults participate in adult basic education (ABE) programs to improve literacy skills, which can increase the ability to understand and use health information. This presentation will focus on the interdependency of literacy skills, poverty and health. Specifically, it will address why and how literacy, health advocacy, health promotion and health care organizations can contribute to reducing poverty and income inequality, as well as work toward reducing systemic health disparities. For more information ahead of the Summit, you can view the Open Door Collective white paper, "Why Healthy Communities Need Adult Basic Skills Education."
A5: Building Support and Enthusiasm for Health Literacy
Helen Osborne, M.Ed., OTR/L, President, Health Literacy Consulting, founder of Health Literacy Month, and host of the podcast series, "Health Literacy Out Loud" 

You know that health literacy matters. But are others around you equally aware, active, and enthused? Unfortunately, sometimes the answer is no. Structured more as a conversation than presentation, in this session Helen Osborne will encourage participants to brainstorm ideas and share suggestions about meaningful, realistic ways to build support for issues participants recognize as vital to those they care about, and care for. These ways can be as varied and creative as people want, including educational workshops, community fairs, online and in-person contests, local and statewide proclamations, publicity campaigns, award ceremonies, and more!  
Concurrent Breakout Session B (Tuesday, April 4, 2:45 – 3:45 pm)
B1: Moving from Education to Engagement – Using Hands on Activities to Assess and Build People's Knowledge, Attitudes, Beliefs and Values about Health
Susan Reid, Director, Health Literacy NZ Limited 

In health settings, education often consists of telling people about their health and what they need to do rather than engaging with what the person already knows and believes. Often this telling approach results in the person not changing behaviours and the health professional characterising the person as non-adherent. This workshop demonstrates how to engage people and families with acute and chronic conditions to help them synthesise new information with what they already know and believe. This, in turn, will help them better understand their condition and make appropriate future decisions. This hands-on practical workshop will demonstrate how one can use visuals and props with patients to help assess and build their knowledge, attitudes, beliefs and values about their long term and acute health conditions.
 
B2: Strategies for Implementing Health Literacy Practices in Healthcare Organizations: The Key Ingredients
Audrey Riffenburgh, Ph.D. (candidate) President, Plain Language Works, LLC

Despite widespread awareness of the challenges healthcare organizations present to patients and their loved ones, many organizations have not embraced health literacy initiatives. Moving health literacy best practices into organizational systems and processes can be tough. This session describes the results of a study on strategies healthcare organizations across the U.S. are using to increase awareness of health literacy, make the case to leadership, and implement best practices. This session will share key strategies, lessons learned, and recommendations for moving your organization toward becoming health literate. It will also provide a list of resources to help you on the journey. 

B3: Health Literacy Resources and Projects to Inform, Engage and Inspire 
Clarify, Don't Terrify! Utilizing National Library of Medicine Resources for Health Literacy
Elizabeth Kiscaden, MLIS, AHIP, Associate Director, National Network of Libraries of Medicine Greater Midwest Region;
Carolyn Martin, MLS, AHIP/Consumer Health Coordinator, National Network of Libraries of Medicine Pacific Northwest Region

This session will introduce participants to health literacy resources available through the National Library of Medicine, and to highlight health literacy programs funded through the National Network of Libraries of Medicine (NNLM). Participants will learn about the Easy-to-Read patient education materials made available through MedlinePlus, a consumer health database. Additionally, participants will learn to use cultural competency resources such as the American Indian Health portal, the Native Voices project and HealthReach. Successful health literacy projects funded through the NNLM will be highlighted, and participants will receive information on how to apply for federal funding through the NNLM to support their own projects or partnerships.
 
Graphic Medicine: A Visual Narrative Approach to Health Literacy
Matthew N. Noe, MSLS, Library Fellow, University of Massachusetts Medical School, Lamar Soutter Library/National Network of Libraries of Medicine New England Region

Roughly 12% of English-speaking adults are considered to have proficient health literacy, a number that drops even further for children, young adults, and non-native English speakers. Visual tools have been shown to be a valuable way to combat this problem, with comics in particular deserving greater attention. This session will help participants understand the growing use of comics in medicine – known as graphic medicine – by placing it in the context of general literacy and by providing key information on sources for further study and ideas for program development.  
B4: Opening Doors to Health Literacy at Your Library
Leslie Gelders, BBA, Literacy Coordinator, Oklahoma Literacy Resource Office, Oklahoma Department of Libraries
Pam Bean, MLIS, Head Reference/Adult Services Librarian, Southern Oklahoma Library System

Health literacy at a library doesn't have to mean hosting a health fair. It can be pickle making, hula hooping, and A Very Hungry Caterpillar. If you are not including public libraries in health literacy efforts, you are missing out on partnerships that can provide a treasure trove of resources. This workshop will cover such topics as how to encourage library participation, how to connect with a variety of community partners, and what resources are available at libraries. Information will be provided on how libraries and literacy programs developed interesting and innovative health and wellness projects in communities of all sizes.

B5: Cancer Clear & Simple: A Health Literate, Community-Driven Cancer Education Program
Cody Fredrick, MPH, University of Wisconsin Carbone Cancer Center, Cancer Health Disparities Initiative;
Mary Ann Schilling, M.Ed., Family Living Educator, Associate Professor, University of Wisconsin-Extension, Waushara County

Cancer Clear & Simple (CC&S) is a key tool used by UW Carbone Cancer Center's Cancer Health Disparities Initiative to help reduce cancer disparities through community-based research, education and training with underserved populations. CC&S is a set of cancer educational materials that includes a curriculum, Facilitator Guide and educational handouts. CC&S has been adapted for use with rural, African American and Latino audiences. This presentation will describe the CC&S adaptation process, available cancer education tools, evaluation results, and current activities. All CC&S materials incorporate health literacy principles and are designed to build knowledge and improve health-related decision-making. 
Concurrent Breakout Session C (Tuesday, April 4, 4:00 - 5:00 p.m.)

C1: Exceptional Lives: Interactive Online Guides for Parents of Kids with Disabilities
Anne Punzak Marcus, MS, co-founder and Board Chair of Exceptional Lives, Inc.;
Julie McKinney, MS, Independent Consultant with McKinney Health Services, HL Discussion List Moderator, Institute for Healthcare Advancement

While there are many health literate resources, there is still a large gap in filling the information needs of parents of children with disabilities. These families are faced with complex medical and educational choices and must navigate extremely complex processes in order to get the services, benefits, and education that their children are entitled to. In this session, we will demonstrate the free, online, interactive Guides created by Exceptional Lives. These plain language Guides walk parents through processes like getting Early Intervention, writing an IEP (individualized education plan), or making the most of their health insurance. The presenters will also seek feedback for improvement and new topics that the attendees see as important to address.

C2: Implementing Health Literacy at Your Organization: Using the Roundtable on Health Literacy as a Resource
Melissa G. French, M.S., Program Officer, Health and Medicine Division of the National Academies of Sciences, Engineering, and Medicine and staff member on the Roundtable on Health Literacy
The Roundtable on Health Literacy has highlighted groundbreaking work on key health literacy issues through its workshops, including introducing the 10 Attributes of a Health Literate Organization in 2012. This session will share strategies presented at these workshops by international experts which have the greatest potential to advance health literacy. Included will be practical information, for example, on how to improve patient and consumer understanding of numerical information, informed consent procedures, after-visit summaries and discharge instructions, and shared decision-making.  Detailed information will be available in materials published by the Roundtable, which is part of the National Academies of Sciences, Engineering and Medicine.
 
C3: Teaching Teach Back to Facilitate Joint Decision Making
Doris Ravotas, PhD, Coordinator of Interdisciplinary Health Services, Western Michigan University

Health care practitioners need to learn to present information in an understandable format that does not overwhelm their patients and to use teach back to check for understanding. They also need to understand what patients' previous understanding and viewpoint are to facilitate joint decision making. Too often practitioners are taught teach back skills in isolation without an understanding of the patient's view. In fact many of the public videos that are used for teaching teach back illustrate a "closed" approach that undermines joint decision making. This workshop presents a tiered approach to teaching teach back that facilitates joint decision making rather than blocking it.

C4: A Framework for Converting Adult Learners' Experiences into Health Literacy Curricular Materials
Maricel Santos, Ed.D., Associate Professor of English, San Francisco State University
The health literacy field needs more tools that engage adult learners in (1) the active creation and interpretation of health information, and (2) the reconciliation of conflicting health-related messages. This presentation focuses on a health literacy curricular framework anchored in principles of learner-centered pedagogy and patient-centered engagement. Core themes are identified by the adult learners and teachers through collecting students' concerns and narratives about their lives, and turning these into vignettes and exercises for adult literacy classroom. Using these, the presenters have developed materials related to lead poisoning prevention, diabetes prevention, and mental wellness for diverse adult ESL contexts. This session can strengthen collaborations between adult literacy and public health and inspire new directions in health literacy curriculum development.  

C5: How can they do what you want them to do if they don't understand what you said?  Eight Steps to Better Communication
Steven Sparks, MS, Health Literacy Director, Wisconsin Health Literacy
You know health literacy is a problem and that it affects a lot of people.  But what can you personally do to make sure your communications have the best chance of being understood by everyone? This session will cover 8 steps to Better Communication, evidence-based principles and techniques designed with health literacy in mind but useful in every aspect of your professional and personal life. Ranging from plain language to verifying understanding to help with numbers, you'll practice techniques and take home practical information you can start using tomorrow.
Concurrent Breakout Session D (Wednesday, April 5, 10:45 - 11:45 am)
D1: Smart Use Health Insurance™: Smart Actions for Using Your Health Insurance
Virginia Brown, DrPH, Doctor Minor, Extension Educator, University of Maryland Extension
Recent research shows that consumers are confused about effective health insurance use; this includes not understanding what their plans cover, not understanding health insurance terms mean, and underestimating costs. One approach to improving health insurance use is to educate consumers on best practices to using their health insurance plan. This session will present an educational program that offers seven strategies for using health insurance effectively to reduce cost and improve health. Health educators and public health officials will learn about one tested method available to increase health insurance literacy. 

D2: Up Close with Dr. Winston Wong (see Special Sessions)

D3: Make Informed Consent an Informed Choice: Tools from AHRQ
Cindy Brach, M.P.P., Senior Health Care Researcher, Agency for Healthcare Research and Quality

Even after signing a consent form, patients are often confused by the benefits, harms, and risks associated with medical treatments and procedures and their alternatives. This violates the principles of informed consent, and can lead to unwanted medical care, errors and malpractice suits. The Agency for Healthcare Research and Quality (AHRQ) commissioned two training modules to improve informed consent practices, one for hospital leaders and one for health professionals. Learn about these training modules which include 10 health literacy strategies that can be used for improving the informed consent process. 
D4: Connecting with Other Organizations to Address Health Literacy:  A Collective Impact Model
Dennis Johnson, Managing Partner, Sort Sol Group
Ben Williams, Managing Partner, Sort Sol Group

Join us for a look at a collaboration model that may help you connect your health literacy initiatives to other important stakeholders in your community or region. Whether your work is in adult education or healthcare, the Collective Impact model is helping organizations work upstream to address root-cause issues. The Collective Impact model is a disciplined, cross-sector approach to solving social and environmental problems on a large scale. Since 2011, hundreds of new collaborations have begun implementing the principles of collective impact in a variety of domains around the globe. Collective impact ideas have also started to influence public policy. 
D5: Communicating with Refugees on Health
Kari LaScala, JD, Health Communications Specialist, Wisconsin Health Literacy;
Omar Eliwa, Compounding Pharmacist, Clinical Services Manager, Hayat Pharmacy

Understanding and using medicine properly can be challenging for those who have lived in America all their lives and speak English as their first language. Imagine how much more difficult this may be for refugees and immigrants. With that in mind, Wisconsin Health Literacy embarked on a two-year project to help these populations better understand and use their medicines. This session will focus on the health literacy successes, challenges and lessons learned in working with such diverse groups. Attendees will also hear a pharmacist's perspective and strategies to help overcome potential barriers so that healthcare professionals and others can more effectively address the health needs of refugee and immigrants. 
Concurrent Breakout Session E (Wednesday, April 5, 1:15 – 2:15 pm)
E1: Helping Consumers Become More Engaged with Their Health Care and Health Insurance
Stephanie Severs, MA, Health Insurance Literacy Lead at Covering Wisconsin;
Kari LaScala, JD, Health Communications Specialist, Wisconsin Health Literacy 
This session will explore approaches to helping consumers understand health insurance, health care quality and the importance of becoming more engaged in their health and health care.  Results will be shared from a two-year pilot project focusing on consumers with lower literacy skills and/or new to health insurance.  Findings provide useful guidance in how to communicate complicated health information, such as choosing and using health insurance, when to use the ER vs. primary care, and how to evaluate the quality of a provider. Attendees will learn of evidence-based materials and services available to use with their clients or members. 
E2: Do You Have CLAS? Building Infrastructure for Health Literacy in an Academic Medical Center
Marina De Pablo, Clinical Nurse Educator, Center for Nursing Professional Practice and Research, University of Chicago Medicine;
Katherine Pakieser-Reed, Executive Director, Center for Nursing Professional Practice and Research, University of Chicago Medicine

An interprofessional Patient Education Committee is embedding the National Standards for Culturally and Linguistically Appropriate Services in Health and Health Care (CLAS) into standard work in a large academic medical center. The CLAS Standards represent best practice for patient education. The process to develop the committee, and gain leadership support will be shared, as will translation of documents into plain language, interpreting services, translation of documents to other languages, and standardization of vendor resources.  Outcomes such as organization-wide assessment, development of a central website for patient education resources and tools, and metrics to track patient education will also be discussed.  Learners will work in small groups to draft objectives for their own organizations.
 
E3: International Health Literacy Association (IHLA): Learn More, Get Involved, Spread the Word
Sabrina Kurtz-Rossi, M.Ed., Assistant Professor of Public Health and Community Medicine at Tufts University School of Medicine;
Robert A. Logan, PhD, National Library of Medicine
The dream of an International Health Literacy Association (IHLA) is now a reality. Come to this unifying and mobilizing session to inaugurate and celebrate the forming of IHLA. You will hear excerpts from the launch of the International Health Literacy Association 2016 Report that documents IHLA events in Geneva, Washington, D.C., and Vietnam. The events featured hopes and dreams for IHLA from Europe, Asia and North America. Visit the IHLA website and spread the word: http://www.i-hla.org will be run by and for its members. Join this session to learn more about how to get involved.
E4: "So, What Does Health Literacy Mean to You?": Asking Culturally Proficient Questions to Implement Health Literacy Initiatives
Virginia Brown, DrPH, Doctor Minor, Extension Educator, University of Maryland Extension;
R.V. Rikard, PhD, Senior Postdoctoral Research Associate, Department of Media and Information, Michigan State University

Understanding and valuing different cultures is essential to designing and implementing health literate initiatives in focus groups and in organizations. The session begins with an introduction to cultural proficiency as a mind-set that shifts from viewing cultural difference as problematic to learning how to interact effectively with other cultures. Participants will identify values and behaviors that are barriers to cultural proficiency, and learn tips on how to ask culturally proficient questions to design appropriate health information and implement tailored health literacy initiatives. Participants will leave with resources and skills to help increase the health literacy of diverse populations.
 
E5: Integrating Health Literacy into Practice: A Public Health Approach Using the Newest Vital Sign
Krystal Rafenstein, BSN, RN, Clinical Services Coordinator, Cudahy Health Department
Katie Lepak, MS, Health Officer, Cudahy Health Department

The ability to understand basic health information has considerable implications for the individual and the community. Often times barriers to understanding are perceived as non-compliance or lack of motivation to change; however, a deeper investigation reveals a root cause to be the individuals limitations related to health literacy. Seeking an evidence-based approach to address health literacy, the Cudahy Health Department (CHD) implemented the Newest Vital Sign, a validated tool that assess health literacy skills for both numbers and words. During this presentation, participants will learn why the CHD selected this tool, modifications in teachings as a result, and the clients' perspective.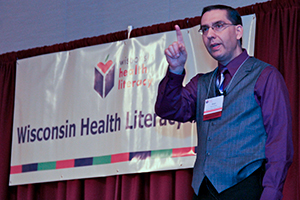 Health Literacy Summit
Over 350 people attended the 2017 Wisconsin Health Literacy Summit, which focused on how improved health literacy can help individuals become more engaged with their health and healthcare.

An additional 80 individuals attended the Medication Label Summit centering on how improving prescription drug labels can help patient understanding. Visit our Summit page for more information.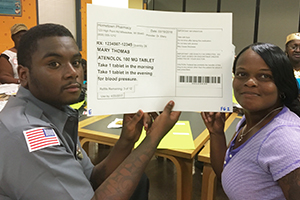 Medication Label
Wisconsin Health Literacy is working with a patient advisory council to design easy-to-read medication labels.  Our work has impacted about 3 million prescription labels in Wisconsin.  Read more about this project.