Health Literacy Summit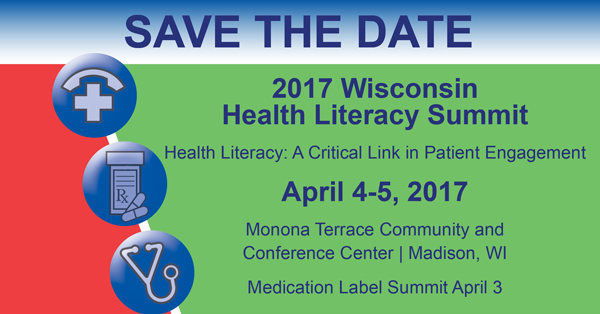 Registration information coming soon!
Wisconsin Health Literacy announces the following Summit plenary sessions on April 4-5:
Keynote Speaker: Anne Fadiman, award-winning author of The Spirit Catches You and You Fall Down: A Hmong Child, Her American Doctors and the Collision of Two Cultures 
 

"The Evolution of Health Literacy Improvement: Getting to an Exceptional Health Care Experience"

Cindy Brach, Senior Healthcare Researcher, Agency for Healthcare Research and Quality
 

"Are You What I Hear? Exploring Unconscious Bias in Health Literacy" 

Winston F. Wong, MD, Kaiser Permanente
 

"A Framework for More Fully Engaging People in their Healthcare" 

Karen N. Drenkard, PhD, RN, Senior Vice President, GetWellNetwork
 

"Building the Case and Hardwiring Health Literacy into the Organization"

Christopher Trudeau, Professor of Law, Western Michigan University
Kim Parson, Strategic Consultant, Humana
 

Closing: Anita Woodley, Emmy Award-winning journalist, producer, actress, poet, mixed-media folk artist and playwright

Medication Label Summit speakers on April 3 (to date): An added feature to this year's Wisconsin Health Literacy Summit will be the Medication Label Summit held on April 3, one day prior to the Summit. Presentations will focus on challenges to reading medication labels, including sessions on Wisconsin Health Literacy's grant project from the Healthier Wisconsin Partnership Program relating directly to this topic.  
Michael Wolf, PhD, Northwestern University Feinberg School of Medicine
Ruth Parker, MD, Emory University Department of Medicine
Joanne Schwartzberg, MD, United States Pharmacopeia (USP)
Keith Trettin, Veterans Affairs National Center for Patient Safety
Virginia Herold, CA Board of Pharmacy

Other Pre-Summit workshops on April 3:
SHARE APPROACH: This workshop will center on learning cutting-edge, evidenced-based information about shared decision making. Faculty for that workshop are: 

Jann Keenan, Ed.S. Strategic Partner - Health Literacy at the Institute of Healthcare Advancement (IHA); President, The Keenan Group, Inc.
Michelle Tregear, Ph.D., Project Director, AFYA, Inc.
 

Health Literacy Starter Kit: Basic Information and Resources for the Newcomer, presented by:

Paul Smith, MD, Medical Advisor, Wisconsin Health Literacy, and Professor, University of Wisconsin Department of Family Medicine and Community Health 
Request for Exhibit Space: Wisconsin Health Literacy is inviting exhibitors to the 2017 Wisconsin Health Literacy Summit. As an exhibitor, you will have access to professionals actively seeking help in how to move their organizations and their professions forward. Reserve your space now! Applications are due by Friday, March 3, 2017.

Registration Fees: (Please note: Registration information will be available soon)
Health Literacy Summit: "Health Literacy: A Critical Link in Patient Engagement" on April 4-5, 2017:  
Standard: $325 ($275 on or before March 7, 2017)

3 

+ attendees from the same organization: $285 ($225 on or before March 7, 2017)

Student: $110 (full-time graduate or post-doctorate students of accredited universities)
Medication Label Summit on April 3, 2017:
$95 (a $25 discount will be applied if also signing up for the Health Literacy Summit on April 4-5, 2017)

Hotel Accommodations: A limited number of rooms in two nearby hotels have been reserved for Summit guests at discounted rates. To make a reservation contact the hotel directly on-line or by phone and mention the Health Literacy Summit. 

Host Partners:
Metastar
Pharmacy Society of Wisconsin
ProLiteracy
The Joint Commission
University of Wisconsin Department of Family Medicine and Community Health
Wisconsin Association of Health Plans
Wisconsin Healthcare Public Relations and Marketing Society
Wisconsin Hospital Association
Wisconsin Medical Association
Wisconsin Nurses Association
To be added to the mailing list to receive updates, send an email to healthliteracy@wisconsinliteracy.org.
To receive information on sponsorships, send an email to dan@wisconsinliterary.org.
2015 Summit:
"Better Health through Better Communication"
April 13-15, 2015
Monona Terrace Community and Conference Center, Madison, WI
This conference focused on how improved health communication can lead to better outcomes. This is increasingly important in the changing health care environment in which reimbursement is more closely tied to results and population health must be better managed.
Six plenary sessions, twenty-five breakout sessions, a poster presentation and networking opportunities provided attendees with the opportunity to learn more about health literacy and evidence-based interventions, as well as to network with experts and colleagues in the field from many states and some other countries.
2015 Summit Key Links:
Agenda
PowerPoint Presentations
Summit Sponsors