Health Literacy Summit

Join us April 2-3, 2019 (pre-Summit sessions on April 1) for the Wisconsin Health Literacy Summit in Madison, WI
You'll hear from respected experts in the field who take us beyond our everyday discussions and broaden our scope on health literacy. From community health to academia, literacy to communication, and many other professions, the summit theme focuses on "a sharper view through the lens of health literacy".
Check out these nationally known health literacy experts who already have committed for plenary sessions (more to come):
Dean Schillinger, MD (Keynote Speaker)
Professor of Medicine, University of California-San Francisco
Founding Director, Center for Vulnerable Populations, Zuckerberg San Francisco General Hospital
Perri Klass, MD
Professor of Journalism and Pediatrics, New York University
National Medical Director, Reach Out and Read
Shonna Yin, MD, MSc
General Pediatrician
Associate Professor of Pediatrics and Population Health at the NYU School of Medicine / Bellevue Hospital Center
Michael Paasche-Orlow, MD, MPH
Professor, Boston University School of Medicine
Editor-in-Chief, Health Literacy Research and Practice
Matthew W. Kreuter, PhD, MPH
Kahn Family Professor of Public Health and Senior Scientist
Washington University in St. Louis

Annie Griffiths (Closing Speaker)
National Geographic Photographer
Executive Director, Ripple Effect Images
Pre-Conference Session Speakers:
Sabrina Kurtz-Rossi, M.Ed.
Assistant Professor, Department of Public Health and Community Medicine
Tufts University School of Medicine
Audrey Riffenburgh, Ph.D.
President, Plain Language Works
Founding Member, Clear Language Group

Registration: Registration will open January 20, 2019
Summit sponsors: If you are interested in becoming a Summit sponsor, please click here for additional information.
Summit videos: View the list of 2017 Wisconsin Health Literacy Presentation Summit videos (not all presentations were taped). You can also watch them online at https://livestream.com/DHSwebcast/events/7897668.

Previous Summits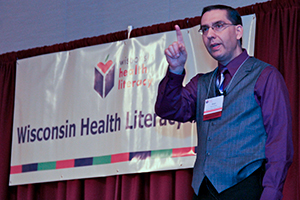 Health Literacy Summit
Over 350 people attended the 2017 Wisconsin Health Literacy Summit, which focused on how improved health literacy can help individuals become more engaged with their health and healthcare.

An additional 80 individuals attended the Medication Label Summit centering on how improving prescription drug labels can help patient understanding. Visit our Summit page for more information.