Social Media
Download and use our mobile app to network with other attendees and customize your own Summit schedule. Watch for more details. 

Throughout the Summit, be sure to tweet and follow the hashtag #HLSummit2017 on Twitter to share your experiences and connect with other attendees. We will be posting updates and photos to the Wisconsin Health Literacy Facebook page throughout the event, so be sure to "like" us on Facebook. 

And get ready to help broadcast the health literacy message with a Thunderclap.  Don't know what that is? We'll fill you in closer to the event.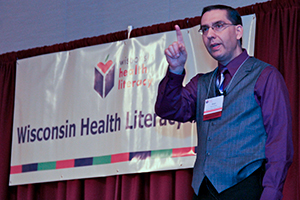 Health Literacy Summit
Over 350 people attended the 2017 Wisconsin Health Literacy Summit, which focused on how improved health literacy can help individuals become more engaged with their health and healthcare.

An additional 80 individuals attended the Medication Label Summit centering on how improving prescription drug labels can help patient understanding. Visit our Summit page for more information.