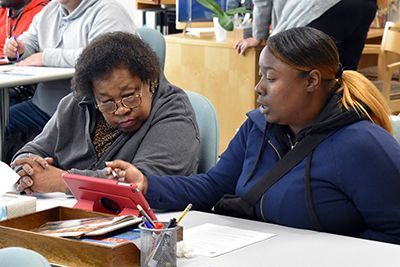 With technology literally in the palm of our hands, patients, healthcare professionals, and consumers searching health information rely more and more on online searches. According to the Pew Research Center, "roughly half of U.S. adults (53%) say the internet has been essential for them personally during the pandemic."1 
The COVID-19 pandemic has highlighted the widening digital divide and the increasing concern with accessing credible health information.
Wisconsin Health Literacy's (WHL) Health Online: Finding Information You Can Trust educational workshop helped users navigate the web, find reliable health information online, and make the most of their online resources through the Network of the National Library of Medicine (NNLM) - Greater Midwest Region grant.  
Based on the success of this project, NNLM will work with WHL to develop videos, program guides, and virtual learning series to address the digital divide nationally.  
WHL will organize a team, consisting of subject matter experts and community members, and hold virtual co-creation sessions to develop and finalize content materials. The active participation of representatives from the intended audience groups ensures understanding and cultural sensitivity to diverse audiences, information needs, and learning styles. Involving NNLM partners in co-creation will ensure digital health literacy virtual events and materials leverage existing NNLM resources and programs for the general public. The materials will be in both English and Spanish.
These resources are for NNLM members to support their communities as they access and use health information online and participate in medical research studies. The goal of this partnership is to reach people who are on the other side of the digital divide. NNLM will work with WHL to develop several materials and activities on digital health literacy that NNLM members can use to engage with their communities both in person and online. The project is scheduled to be completed by April 30, 2021.
Developed resources reported in this press releases are supported by the National Library of Medicine (NLM), National Institutes of Health (NIH) under cooperative agreement number UG4LM012346 awarded to the University of Iowa. The content is solely the responsibility of the authors and does not necessarily represent the official views of the National Institutes of Health or the University of Iowa.
---
1 https://www.pewresearch.org/internet/2020/04/30/53-of-americans-say-the-internet-has-been-essential-during-the-covid-19-outbreak/