Frequently Asked Questions
Why are the labels changing?
Patients often have a difficult time reading and understanding medication labels, especially those with low health literacy.  Your pharmacy system is participating in a project called Adopting Patient-Centered Prescription Medication Labels in Wisconsin.  The main purpose of the project is to implement improved labels based on the United States Pharmacopeia's national guidelines. 
To read about the research that started it all click here.
What is Health Literacy?
According to The Institute of Medicine (now the National Academy of Medicine), 77 million Americans have limited health literacy.  People with limited health literacy do not have the skills they need to obtain, process and understand basic health information they need to make appropriate health care decisions.  Misunderstanding health information on a prescription medication label can lead to medication errors, health complications and even death.  People who are in pain, sick, older, as well as those whose first language is not English, and those with a limited education can all have low health literacy.  By designing patient materials, such as medication labels to comply with standards for reaching low health literacy patients, we increase patient understanding, and reduce the chance or medication mistakes, leading to better health overall.
What are the USP Chapter 17 Guidelines?
The USP developed the standards to address patient safety and health literacy in the pharmacy setting. The USP Chapter 17 guidelines were developed from an initiative led by the Institute of Medicine to improve health literacy.   These include recommendations on font style and size, white space, placement of critical information, and using clear instructions for use.
The full USP Chapter 17 guidelines can be downloaded here.
A summary is listed here.

How can I learn more about this project, or provide feedback?
We would like to hear from you!  Please contact Bhumi Khambholja, Project Manager at bhumi@wisconsinliteracy.org; or Stan Hudson, Director of Wisconsin Health Literacy, at stan@wisconsinliteracy.org.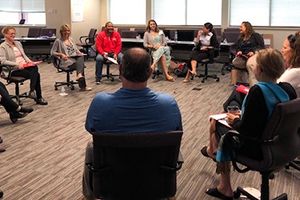 Health Literacy Services
Wisconsin Health Literacy offers training and consulting services customized to meet your organizational needs. Trainings focus on the numerous ways that health literacy impacts care delivery, health outcomes, and public health.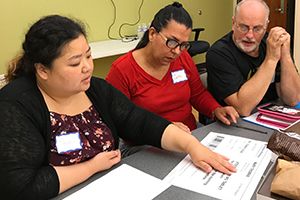 Medication Label
Wisconsin Health Literacy is working with a patient advisory council to design easy-to-read medication labels.  Our work has impacted over 4 million prescription labels in Wisconsin.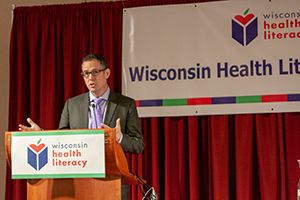 Health Literacy Summit
The Health Literacy Summit is the largest in the Midwest. 
Diverse sessions and networking opportunities provided attendees with the opportunity to learn more about health literacy. 
Visit our Summit page for more information.