Advancing All of Us Recruitment and Retention: Using Community Asset Based Models to Reach One Million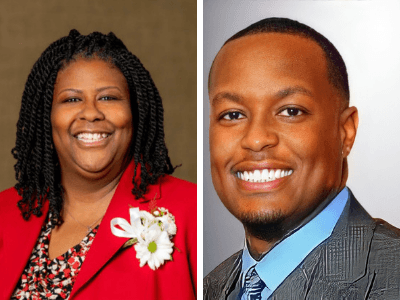 Center for Community Engagement and Health Partnerships
University of Wisconsin, Milwaukee
Asset Based Community Development (ABCD) engagement has been the foundation for the Center for Community Engagement and Health Partnerships (CCE) since its inception in 2015. CCE's model is building off the earlier Alzheimer's work with the Wisconsin Alzheimer's Institute (WAI) Regional Milwaukee Office, where ABCD was introduced as an innovative strategy to the newly formed term of recruitment science and has been shown to increase research participation in marginalized communities (Green-Harris et al). The UW Madison All of Us Milwaukee team adopted this ABCD recruitment and retention model to create innovative strategies to not only recruit and enroll minoritized populations into the All of Us Research Program but also retain them as core partners in the program. Our model focuses on creating ways to engage the community as thought leaders, innovators, and scientific participants that goes beyond enrollment.  
In this presentation, you will hear from our staff, Community Advisory Board (CAB), and community stakeholders.  We will share our ABCD model, our newly implemented cohort model, CAB structure, and our community scientist efforts.  We will share how our work has resulted in increased enrollment, the development of more than 15 partnerships with community stakeholders and has supported our retention of participants at 73%. We will also provide space for a robust discussion of how this model is replicable. 
Gina Green-Harris, MBA, Co-Investigator, Director 
Gina Green-Harris is the Co-Investigator for the University of Wisconsin Madison All of Us Research Program. The inaugural Director of the award-winning Center for Community Engagement and Health Partnerships (CCE) Regional Office in Milwaukee, she oversees the UW All of Us Milwaukee team, which focuses on serving the underrepresented African American and Hispanic communities. Through the CCE, Green-Harris also serves as the Director of the Wisconsin Alzheimer's Institute, and as a champion of health equity helped create the CCE to further advance research in the African American community in a culturally inclusive manner. Green-Harris has participated in many research programs, received many awards and has been appointed to various university and community committees. Most notably, she currently serves as Chair of the State of Wisconsin Governor's Health Equity Council and the National Institutes of Health Community Engagement Recruitment and Retention of Underrepresented Groups Steering Committee. She received her Master of Business Administration from Franklin University in Columbus, OH and her Bachelor of Science at Central State University in Wilberforce, OH. She is currently pursuing her doctoral degree in Clinical Investigations from the University of Wisconsin-Madison.
Bashir Easter, PhD, Assistant Director
Bashir Easter is the Assistant Director of the UW All of Us Research Program in Milwaukee and oversees the day-to-day operations of the UW All of Us Milwaukee team. In 2020, he completed his doctoral research focusing on African American adolescents' internal and external experiences caring for a family member living with dementia. His interest in this topic is personal. He is the one in his family caring for his mother who was diagnosed with dementia at the age of 55. Following this diagnosis, he intensified his research in this area and became the first Dementia Care Specialist for the Milwaukee County Department on Aging, working with community partners to make a significant impact in creating a dementia-capable system and dementia-friendly community. Dr. Easter earned his Doctor of Philosophy from Capella University, a Master of Business Administration from Concordia University, and a Bachelor of Science from Cardinal Stritch University. He also received an Associate of Science degree in business management from the Milwaukee Area Technical College.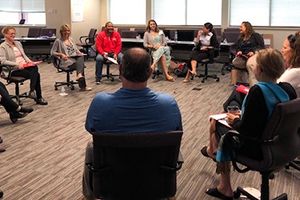 Health Literacy Services
Wisconsin Health Literacy offers training and consulting services customized to meet your organizational needs. Trainings focus on the numerous ways that health literacy impacts care delivery, health outcomes, and public health.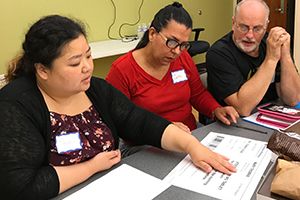 Medication Label
Wisconsin Health Literacy is working with a patient advisory council to design easy-to-read medication labels.  Our work has impacted over 4 million prescription labels in Wisconsin.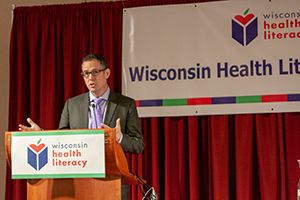 Health Literacy Summit
The Health Literacy Summit is the largest in the Midwest. 
Diverse sessions and networking opportunities provided attendees with the opportunity to learn more about health literacy. 
Visit our Summit page for more information.