Implementing Health Literacy Initiatives (Plenary D)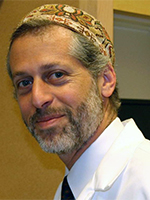 Michael Paasche-Orlow MD, MA, MPH is Professor of Medicine, Boston University School of Medicine. Dr. Paasche-Orlow is a general internist and an internationally recognized expert in the field of health literacy. Dr. Paasche-Orlow's work has brought attention to the role health literacy plays in racial and ethnic disparities, self-care for patients with chronic diseases, care transitions, end-of life decision making, and the ethics of research with human subjects. Dr. Paasche-Orlow is the Director of the Boston University School of Medicine General Internal Medicine Academic Post-Doctoral Fellowship Program and the Associate Section Chief for Research for the Section of General Internal Medicine. Dr. Paasche-Orlow is the director of HARC, the Health Literacy Annual Research Conference and is the founding editor of the journal Health Literacy Research and Practice.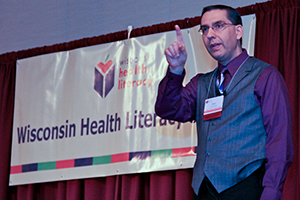 Health Literacy Summit
Over 350 people attended the 2017 Wisconsin Health Literacy Summit, which focused on how improved health literacy can help individuals become more engaged with their health and healthcare.

An additional 80 individuals attended the Medication Label Summit centering on how improving prescription drug labels can help patient understanding. Visit our Summit page for more information.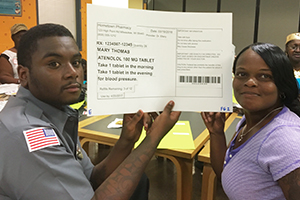 Medication Label
Wisconsin Health Literacy is working with a patient advisory council to design easy-to-read medication labels.  Our work has impacted about 3 million prescription labels in Wisconsin.  Read more about this project.