Mary Ann Abrams, MD, MPH, is a Clinical Assistant Professor, Department of Pediatrics, The Ohio State University College of Medicine, and GME Quality Improvement Medical Director and Ambulatory Pediatrician at Nationwide Children's Hospital. She led Iowa Health System's (now UnityPoint Health) health literacy quality initiative, and is developing health literacy at Nationwide Children's. She co-led the American Academy of Pediatrics' Health Literacy Project Advisory Committee. Dr. Abrams has presented and published on health literacy-related interventions in real-world clinical settings, training resources, pediatric health literacy, and partnering with patients and adult learners. 
Laura Apfelbeck, MA, is a County Coordinator, for UW-Extension FoodWIse. Though seemingly disjointed and unrelated, Laura's work is actually sharply focused on poverty and marginalization. She just didn't know it when she started this journey.  A first generation college student, Laura studied literature of the dispossessed & disenfranchised at UW-Eau Claire, then rambled into the Peace Corps in Bulgaria—right after the fall of the Berlin wall. Upon her return, she then taught English for 10 years in low income public schools and 16 years at UW-Manitowoc, working with nontraditional students & underprepared first generation college students.  Laura is now coordinating SNAP-Ed programming in three Wisconsin lakeshore counties. At home she wrangles triplet thirteen-year-old girls, a four-year-old boy, a husband who teaches students with behavior disorders, a feisty 85-year-old father, two black cats and a labradoodle puppy.  Want to visit?
Jeni Appleby is a Health Insurance Literacy Specialist for Covering Wisconsin. She provides healthcare outreach and support, with a focus on coverage through Medicaid and the Health Insurance Marketplace. Jeni works on a team to create and disseminate health insurance literacy how-to sheets and conduct trainings to professionals and consumers.
Seng Lat Aung has been working at the International Institute of Wisconsin for a year as a Community Health Worker. He is studying to become a paralegal at Milwaukee Area Technical College. He is a Kachin which is one of the ethnic group from Burma and he speaks Kachin, Burmese and English.
Ginger Baier is a Transgender Health Advocate for OutReach LBGT Community Center in Madison. Prior to becoming staff at OutReach, Ginger served on their Board of Directors as a Facilitator in the Madison Area Transgender Association.  The staff at OutReach work tirelessly every day to improve the lives of the LGBT Community in Southern Wisconsin.
Bud (Allen) Bartel, RN, is also a Marinette Oconto Counties Literacy Council Board Member. He has over 30 years of experience as a nurse in various positions: medical/surgical, oncology, ICU, ER, long-term care supervision and hospice. He also has medical/surgical and long-term care supervision experience. He received his RN from the Bellin School of Nursing in Green Bay, and has a Bachelor of Science in Professional Arts with a Healthcare Administration major from St. Joseph's College in Standish, Maine. Even though he has a degree in healthcare administration, he has remained at patients' bedside his entire nursing career.
Chuck Bornhoeft is the Treasurer and a Board member of Literacy Volunteers - Marquette County (LV-MC). Chuck spent 33 years with a national mutual insurance company in a variety of technical and managerial roles.  Most of his career was spent in education and development for the 1,100+ person Claims Department. Chuck led classes for Life, Health, Disability, Dental, Casualty and Professional Liability staff. In retirement, Chuck is an active tutor for LV-MC, volunteers at the Oxford Library, and facilitates workshops for Wisconsin Health Literacy throughout Wisconsin on prescription medications, opioid medications, and working with primary care Physicians.
Noelle Braun has been directing the 501c3 nonprofit organization Casa Guadalupe Education Center since 2012. She is directly involved in literacy programming oversight, fund development, and community outreach. She is passionate about furthering Casa Guadalupe's mission, serving the Spanish speaking community in Washington County, and bringing her growing, diverse community together. She is proud to see Casa Guadalupe's health programs grow over the years thanks to the organization's Community Health Navigator and strategic partnerships with health and wellness entities in Southeastern Wisconsin. She is also a wife and mother to two young girls, and resides in West Bend, WI.

Michelle Burda, MLS, is the Education and Health Literacy Coordinator for the National Network of Libraries of Medicine (NNLM), Middle Atlantic Region (MAR). The Middle Atlantic region includes the states of NY, NJ, DE and PA. In this position she is responsible for outreach planning and programs, training both in-person and online on the National Library of Medicine's health information resources and developing new classes. She is dedicated to raising awareness of the health literacy issues that affect both consumers and healthcare professionals. Michelle has contributed her skills and talents as a teacher, collaborator, advocate and partner, establishing relationships with community members and stakeholders to identify and meet their health information needs.  
Susan Cosgrove, MPA, CPHQ, is the Director of Health Literacy at Health Care Improvement Foundation (HCIF). She currently leads HCIF's regional and statewide health literacy efforts to empower consumers, educate providers, and build multi-stakeholder coalitions addressing health communication. She also supports HCIF initiatives related to opioid surgical stewardship, chronic disease reduction and prevention, and prostate health. She previously held positions at the Population Health Institute and Institute for Research on Poverty at the University of Wisconsin-Madison, Illinois Campaign for Better Health Care, and the Wisconsin Department of Workforce Development. Susan holds a bachelor's degree in Sociology, Urban and Ethnic Studies from The College of New Jersey and Master in Public Affairs from the University of Wisconsin-Madison.
JennaRose Dahl, BA, Graduate Certificate in Teaching Adult ESL, is the Digital Literacy and Distance Learning Instructor at the Minnesota Literacy Council, where she teaches blended learning ESL classes, and she is also the Service Specialist and Trainer for the Northstar Digital Literacy Assessment. Her B.A. is in English Literature and Writing from Bethel University (2011), and her graduate certificate in Teaching Adult ESL is from Hamline University (2016). 
Jennifer Dillaha, MD, is the Medical Director for Immunizations and Medical Advisor for Health Literacy at the Arkansas Department of Health. Dr. Dillaha was the Special Advisor for Strategic Initiatives in the Office of the Director from June 2010 to April 2013 and Director of the Center for Health Advancement from August 2005 to June 2010. Prior to joining ADH in 2001, she received a medical degree from the University of Arkansas for Medical Sciences in 1994, followed by specialty training in internal medicine and subspecialty training in infectious diseases and in geriatric medicine. 
Michele Erikson is the Executive Director of Wisconsin Literacy, Inc. She has been involved with adult literacy for the past 30 years from volunteer tutor, board member and president of Stateline Literacy Council (Beloit, WI) to Workforce Development Director, English language instructor and Executive Director.  She has worked with the Hispanic Community in Rockford, IL at La Voz Latina where she taught English and directed the Workforce Development Program. In 2005 she began working for Wisconsin Literacy, Inc. as the Executive Director and is supporting, developing and advocating for 75 literacy organizations state-wide.  In 2011 she was appointed to the Governor's Read to Lead Task Force to address reading proficiency from early childhood to 3rd grade. She currently serves on the state Refugee Advisory Council that is part of Wisconsin's Department of Children and Families and The WI Reach Out and Read Advisory Council, connecting pediatricians with early childhood literacy efforts. Recently, her work with Wisconsin Literacy has focused on Health Literacy and ways to improve health outcomes and reduce health care costs by educating both providers and patients on more effective ways to communicate.  Ms. Erikson has extensive experience in leading community-based organizations through significant growth. Michele is a Beloit College graduate with a dual BA in Political Science and French with concentration in Russian and Spanish.
Michael Evans is Executive Director of the Kalamazoo Literacy Council. He is the facilitator of the Adult Literacy Collaborative of Kalamazoo County, which serves as a forum to determine adult literacy priorities, identify and expand resources, and align services and programs. Evans is Vice-Chair of the Region 8 Regional Prosperity Initiative for the State of Michigan. He is Codirector of the Adult Literacy Research and Training Symposium, hosted annually in collaboration with Western Michigan University. Evans serves on the Advisory Board for the WMU Osher Lifelong Learning Institute and on the Board of Directors of Family & Children Services. 
Sara Finesilver, M.S.Ed, is an English as a Second Language Faculty member at Madison College. She is a collaborative and creative ESL higher education professional who is passionate about health literacy and amplifying diverse immigrant patient voices in the healthcare setting. She holds a BA in English with a certificate in TESOL from the University of Wisconsin – Madison (2002) and earned a master's in higher education with a specialization in adult learning from Capella University (2016). 
Cori Gibson, MSN, RN, CNL, is a Safety Specialist and Clinical Nurse Leader who co-leads the Health Literacy Task Force at Children's Hospital of Wisconsin.  With more than 27 years of pediatric nursing experience, she is a leader, educator, coach and mentor who recognizes the importance of health literacy and has led teams to improve care and patient outcomes by focusing on safety, quality, and implementation of evidence-based practice at the point of care. Cori has published and presented on topics integral to quality and safety for patients and families. Cori earned her M.S.N. at Marquette University and her B.S.N. at Concordia University.  She is a member of Sigma Theta Tau International and the Society of Pediatric Nurses.
Diana Gonzalez, MPH, CHES, is a Health Education Specialist at the Institute for Healthcare Advancement (IHA).  Her role at IHA includes developing and evaluating curricula including a teen curriculum developed for the IHA book "What To Do For Teen Health".  She has implemented programs locally surrounding topics such as health insurance literacy, asthma, teen health, and oral health. To help further the field of health literacy, Diana leads IHA's annual health literacy conference and has presented on the importance of health literacy and practical solutions at conferences such as the Society for Public Health Education and Head Start Associations. 
Margaret Handley, PhD, MPH, is a professor and public heath trained epidemiologist in the Departments of Epidemiology and Biostatistics and the Center for Vulnerable Populations at the University of California San Francisco.  Her research focuses on implementation science and bridging the fields of primary care, public health, and health communication for improving health outcomes and equity in healthcare access. Current research focuses on developing and pilot testing intervention to reduce chronic disease risk in post-partum Latina women and on improving health literacy skills among migrant adolescents. She received her PhD from the University of California, Berkeley.
Jennifer C. Harris, MS, is the Health Communication Specialist at the U.S. Centers for Disease Control and Prevention (CDC). A native of Atlanta, GA, Ms. Harris has worked at the CDC since 2009. She is currently a Health Communication Specialist in the Office of Communication Science. In her role, she leads staff training on health literacy and plain language principles to facilitate understanding and application of clear health communication for web, social and digital media projects, and print materials. Ms. Harris guides agency programs in developing and the implementation of strategic communication plans to advance clear communication practices within the agency. She has an MS in Applied Exercise and Health Sciences from Kennesaw State University and a BS in Food & Nutritional Science from North Carolina Agricultural & Technical State University. 
Heather Hepler Surrency, MPH, is the health and financial literacy coordinator at the Florida Literacy Coalition. She holds a Bachelor's Degree in Journalism from the University of Florida (1992) and a Master's Degree in Public Health from the University of South Carolina (1996). Prior to joining the Coalition, Heather spent 12 years at Georgia Tech as the director of the Department of Health Promotion and as an instructor of an undergraduate preventative healthcare course.
Yen-Ming Huang, MS, BPharm, is a dissertator in the Social and Administrative Sciences Divison at the University of Wisconsin School of Pharmacy. He is interested in evaluation of patient perceptions, attitudes, and behaviors towards medication adherence. Yen-Ming's previous research focused on the role of health literacy and self-efficacy on medication adherence and glycemic control of patients with type 2 diabetes. He also participated in the project of the refinement of prescription warning labels from patient and pharmacist perspectives. He currently works on a project which integrates health literacy and self-efficacy skills into pharmacy practice to improve patients' medication adherence and health outcomes. His dissertation aims to explore barriers and facilitators of medication adherence in patients with type 2 diabetes across different health literacy levels.
Lourdes M. Martinez, PhD, is currently a Health Communication Specialist in the Office of Communication Science at the U.S. Centers for Disease Control and Prevention (CDC). In her role, Dr. Martinez leads staff training on plain language principles to facilitate understanding and application of clear health communication for web, social and digital media projects, and print materials. She also assists agency programs to develop and implement strategic communication plans to advance clear communication practices. Dr. Martinez earned a doctorate in Health Promotion and Behavior from the University of Georgia and holds a Masters in Adult Education from Florida International University.
Martha Maurer, PhD, MPH, MSSW, is a Health Policy Research Scientist at the University of Wisconsin School of Pharmacy, Sonderegger Research Center (SRC). Prior to joining the SRC, Dr. Maurer held various research positions within a global research and outreach program in the UW Carbone Cancer Center. She accrued experience managing a large opioid medication consumption database and conducted numerous qualitative policy content analyses and a formative program evaluation. In her role at the SRC, Dr. Maurer became a part of Dr. Shiyanbola's research team and has been managing the project involving the patient-centered intervention augmenting pharmacist-led usual care with a health literacy-psychosocial support intervention will improve medication adherence for patients with diabetes.

Olga Molina, is a Peer Health Promoter (Promotora) at the Institute for Healthcare Advancement (IHA). She has worked with families in Orange County, California for over 12 years to increase access to care and improve childhood outcomes. Olga has worked with soon to be mothers to ensure they are receiving proper prenatal care and provided follow up home visits as a lactation coach.  She has also worked with survivors of domestic violence to secure safe housing. Currently, she is working with the local senior citizen population to help increase their quality of life and sense of control by connecting them to local resources.  
Sarah Morris, BS, is the Internal Communications and Health Literacy Coordinator for the Arkansas Department of Health. Prior to joining ADH in February 2018, she was a newspaper journalist and freelance writer for more than 10 years. She earned a bachelor's degree in journalism in 2009 from Arkansas State University.

Andrea Morrison, MD, MS, is an Assistant Professor of Pediatrics at the Medical College of Wisconsin. Dr. Morrison is also a Pediatric Emergency Medicine physician and health literacy researcher and advocate. Her research work has focused on the effects of parent health literacy and the decision to seek emergency care for children. She has published work regarding health literacy and ED utilization, health literacy measurement in parents, and health literacy and clinical care in the ED. Dr. Morrison is involved in health literacy clinical efforts at Children's Hospital of Wisconsin including development of educational materials for caregivers and patients and serves as the Co-Director of the Children's Hospital of Wisconsin Health Literacy Task Force.
Caitlyn Mowatt, BS, is the Health Communications Specialist at Wisconsin Health Literacy. She holds a bachelor's degree in marketing from the University of Wisconsin-La Crosse.  She has over 5 years of experience in non-profit organizations, including work in health literacy, health care communications and community relations.  She is known for expertise in health literacy, having initiated and coordinated a county health literacy committee. At Wisconsin Health Literacy she focuses on managing grant funded projects throughout the state of Wisconsin. Topics managed and presented on include, safe medication use, opioid pain medication, health insurance, and most recently, digital health literacy.  
Helen Osborne is president of Health Literacy Consulting, founder of Health Literacy Month, and producer/host of the podcast series Health Literacy Out Loud. Helen brings clinical experience, educational training, and patient perspective to all her work. She speaks about health literacy at conferences worldwide. She also serves as a plain language writer/editor on a wide variety of health materials. Helen is author of several books including the award-winning Health Literacy from A to Z: Practical Ways to Communicate Your Health Message, Second Edition. In 2017, Helen was honored to receive the Walter C Alvarez Award for excellence in health communication from the American Medical Writers Association. 
Aaron Perry is President of Rebalanced-Life Wellness Association (RLWA), whose overarching goal is ensuring that African American men and boys living in under-represented communities who bear the heaviest burden of disease and poor health status, can live fuller and healthier lives. On September 11, 2005, Aaron became the world's 1st Insulin Dependent African American Diabetic to complete the Ironman Triathlon. Today, he remains the only African American Diabetic to complete the world's most grueling endurance event. Aaron opened the nation's first Men's Health & Education Center located inside the City of Madison's largest Black Barbershop. Aaron is the National Director of Health, Wellness & Disease Prevention for Black Men Run 50 Chapters across 25 States and received national recognition on the Megyn Kelly Today Show for his work. 
Tara Pray, Graduate Certificate in Nonprofit Governance and Management, is the Member Engagement & Communications Lead at the Wisconsin Department of Employee Trust Funds. She works in the Office of Strategic Health Policy and currently focuses on health benefit communication and education. She is passionate about helping people understand their benefits. She has experience in the public, nonprofit and private sectors. Tara earned her bachelor's in business administration and a graduate certificate in Nonprofit Governance and Management from the University of Wisconsin - Milwaukee. 
Doris Ravotas, PhD, is the Coordinator of Interdisciplinary Health Services Program at Western Michigan University (WMU) and a tenured faculty member of WMU. She teaches health literacy practices to future health providers and present practitioners.  She is a member of the Kalamazoo Literacy Council /WMU Literacy Advisory Board and runs health literacy tutor forums. She received her PhD in Communications (with specializations in literacy, linguistics, and usability testing) from Michigan Technological University in 2004.  She spent the fall of 2017 in Ireland where she worked with the National Adult Literacy Agency on a formative evaluation of the Crystal Clear Pharmacy recognition awards.
Susan Reid, MA, LLB, is the Director of Health Literacy NZ Limited. Susan has provided advice on health literacy to the Ministry of Health in New Zealand and has completed a number of projects for the Ministry including co-leading the development of the Guide to Health Literacy Reviews. She has worked with Government agencies, District Health Boards, NGOs, and PHOs on numerous projects including research, workforce development and patient and family resources about a wide range of health conditions. 

Ryan Roling, MA, is an English as a Second Language Faculty member at Madison College. He teaches Advanced ESL students who intend to transition into college transfer or technical degree programs at Madison College, or who hope to advance at their places of employment. He enjoys creating classroom activities that engage students in authentic ways. He earned his BA in Secondary Education and his MA is TESL/TEFL from St. Michael's College (VT, 2002).
Mitch Ross is a police officer in Milwaukee Wisconsin. Over the years he has held many positions including work in an Anti-Gang Unit Squad and on a Major Incident Response Team. He also is an adjunct instructor at the Milwaukee Police Training Academy. In addition, Mitch educates civilians about reporting suspicious activities and responding appropriately during active shooter events. 
Laura Salcido is a Mexican native that moved 5 years ago to Wisconsin. Because of the family values she was raised in, volunteering has been a part of her life. She started as a volunteer at Casa Guadalupe Education Center but with the increased need for health programs for the Hispanic community in Washington County, she was later hired as a Health Navigator. She was trained by Milwaukee AHEC as a Community Health Worker and has been working as a Health Navigator for the past 4 years. She is also a certified medical interpreter and certified court interpreter. 
Maricel G. Santos, Ed.D., is a Professor of English at San Francisco State University where she teaches in the M.A. in TESOL (Teaching English to Speakers of Other Languages) Program. From 2008-2013, she was a research scholar supported by a Research Infrastructure in Minority Institutions (RIMI) grant from the National Center for Minority Health and Health Disparities, National Institutes of Health.  Her research explores adult ESL participation as a health-protective factor in transnational immigrant communities, as well as the ways that adult ESL learners can serve as agents of change in health care. She received her Ed.D. from the Harvard Graduate School of Education.

Sheryl Scott, DNP, RN, CNE, is an assistant professor and chair of the school of nursing at Wisconsin Lutheran College (WLC) in Milwaukee, Wisconsin. Dr. Scott holds a bachelor's degree in nursing from Marian College (1990), a master's degree in nursing education and management from the University of Phoenix (2005), and a doctorate in nursing practice with an education focus from Case Western Reserve University (2015). Dr. Scott's previous work as a staff educator for patient safety led to the development of her passion for health literacy. She has been a speaker and poster presenter on health literacy at local and national conferences. 
Stephanie Severs, MA, is a Health Insurance Literacy Lead at Covering Wisconsin. Stephanie leads programs that create materials to help consumers better understand and use their health insurance. She writes plain language curriculum and materials that are accessible to consumers at all literacy levels, and provides trainings to organizations on how to use these materials. Stephanie has extensive experience in teaching and curriculum development, including materials to be used with non-native English speakers. She has taught at state universities, and at a refugee resettlement organization. Stephanie holds a master's degree in Spanish Linguistics and a bachelor's degree in English.
Linda Shepard, MSN, RN, is the Community Outreach Coordinator at Providence Alaska Medical Center. Linda has been a nurse for over 35 years with a background in hospice, home care, long-term care and education. For the past 10 years, she has served in community outreach through Providence Health and Services Alaska and the Anchorage Health Literacy Collaborative. She focuses on partnering with immigrant and refugee communities to address health literacy, education and employment needs to support physical and mental well-being.
Olayinka Shiyanbola, PhD, BPharm, is an Assistant Professor in the Social and Administrative Sciences Division at the University of Wisconsin School of Pharmacy. Her research examines patient perceptions and roles in medication use and its impact on medication adherence, health literacy and the elimination of health disparities. Specifically, Dr. Shiyanbola studies the perceptions of illness and medicines among underserved populations. She explores how to utilize and interweave patient perspectives into the development of tailored patient-centered medication use interventions. In her other areas of interests, Dr. Shiyanbola explores empirically redesigning prescription warning and health information documents to improve medication safety. She utilizes sociobehavioral and health psychology theories in her studies and employs qualitative, quantitative, and mixed methods approaches in her work. Dr. Shiyanbola was a NIH Mixed Methods Research Training Program Scholar and a National Institute of Minority Health and Health Disparities Research Institute Scholar. In 2016, she received a 3-year NIH KL2 Career Development Grant. Dr. Shiyanbola currently serves as a member of the National Academies of Science, Engineering, and Medicine Roundtable on Health Literacy.
Greg Smith, MS, has served since 2002 as the Executive Director of the Florida Literacy Coalition, a statewide literacy organization and the host of Florida's Adult and Family Literacy Resource Center. Prior to joining the Coalition, Greg served for 13 years as Executive Director of the Literacy Council of Northern Virginia, Virginia's oldest and largest community-based literacy organization.  He holds a BA from Providence College and a MS in Adult and Continuing Education from Virginia Tech.
Paul D. Smith, MD is a Professor in the University of Wisconsin-Madison Department of Family Medicine and Community Health and has been a family physician for 35 years.  Dr. Smith joined the University of Wisconsin Department of Family Medicine and Community Health faculty in 1995.  He continues to do some family medicine resident teaching and patient care.  He spends the rest of his time with a variety of service and research activities.  He has served as a volunteer on the Board of Directors for Wisconsin Literacy for 11 years, served as the chair of its Health Literacy Committee and has been their medical advisor for over 4 years. Dr. Smith received the 2008 Wisconsin Literacy Advocate of the Year award and 2009 Sally Sunde Family Advocate Award for his literacy work.  He has led six health literacy projects and is currently working on a project to develop educational workshops for family caregivers of older adults to improve communication with their healthcare professionals.
Dimmy Sokhal, PharmD, is the Chief Clinical Officer at Hayat Pharmacy. Dimmy completed her PharmD from UW Madison in 2013 and then pursued a residency through the Community Pharmacy Residency Program at UW Madison School of Pharmacy where she gained experience with Medication Therapy Management. She started working with Hayat Pharmacy in Milwaukee after completing her residency in 2014 and has since been an integral part of the robust clinical program at Hayat.

Kari Trapskin, PharmD, is the Vice President of Healthcare Quality Initiatives at the Pharmacy Society of Wisconsin. Kari earned her BS in Pharmacy and PharmD degrees from the University of Wisconsin - School of Pharmacy (2000) and her BA in biology and French from Luther College (1996). Following pharmacy school, she completed a PGY1 residency at Aurora St. Luke's Medical Center in Milwaukee, Wisconsin. Following residency, she practiced as an inpatient pharmacist at Aurora St. Luke's Medical Center and the UK Chandler Hospital in Lexington, Kentucky, and as a community pharmacist at UW Health in Madison, Wisconsin. Kari was a co-principal investigator for the WPQC Centers for Medicare and Medicaid Services (CMS) Health Care Innovations Award between 2012-15. She was awarded the University of Wisconsin-Madison Young Pharmacy Alumnus of the Year Award in 2014 and the inaugural Pharmacy Quality Alliance/Community Pharmacy Foundation Community Pharmacy Innovation in Quality (CPIQ) award in 2018.
Savitri J. Tsering, MSSW, housed in the Division of Public Health in the Department of Health Services has been Wisconsin's Refugee Health Coordinator since 2004. As a trained social worker she works closely with the Refugee Services Program in the Wisconsin Department of Children and Families. One part of her work is to assist the Refugee Service Program in implementing the Refugee Health Promotion grant which funds three refugee Community Health Workers based out of Voluntary Agencies in Milwaukee. 
Tomi Vandergriff has been working at the International Institute of Wisconsin (IIW) for five years in refugee resettlement.  She has been working as IIW's Medical Liaison and Intensive Case Manager for the past year and a half.  Tomi received her degree in Religious Studies from UW-Milwaukee in 2013.  
Nenglee Vang, MS, is the Refugee Family Strengthening Project Coordinator at Catholic Charities in Green Bay. She works with staff to maintain strong community ties within each county's service network, and providing resources and support for the team. She assists the Director with research, writing for grants and program development and implements. She is responsible to assist staff to compliance with grant outcomes through thorough understanding of grant expectations and oversight of activities of staff. She assists the program outcomes for the program that can be monitored within the Catholic Charities Continuing Quality Improvement Program. She services five counties: Brown, Manitowoc, Outagamie, Winnebago and the outreach to Calumet. She holds a master's degree in community counseling from Winona State University in Minnesota. 
Erika Villafuerte works statewide for UnitedHealthcare to support efforts to help people live healthier lives – with an extra focus on underserved populations. She also runs Salud First, offering wellness workshops and a social media platform for reminders to help people prioritize and achieve their best possible health. As founder of Salud First Network, she also hosts separate networking meetings and socials to connect professionals and community members of various cultures and backgrounds to share information, resources and referrals to support each other in reaching personal and career goals while keeping health a priority. Erika is also a member of the Board of Directors with several organizations which advocate on behalf of Latinos and the socially and economically challenged; develop intentional, positive strategies for a healthy, affordable, equitable food system that nourishes our community, and assist to improve the quality of life by creating, implementing and referring to programs of education, health, job opportunities and facilitate access to existing community resources.  Erika is also on the Advisory Council with other organizations working together on statewide efforts with a special interest in diverse and multicultural outreach.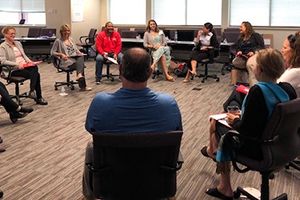 Health Literacy Services
Wisconsin Health Literacy offers training and consulting services customized to meet your organizational needs. Trainings focus on the numerous ways that health literacy impacts care delivery, health outcomes, and public health.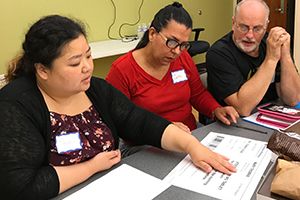 Medication Label
Wisconsin Health Literacy is working with a patient advisory council to design easy-to-read medication labels.  Our work has impacted over 4 million prescription labels in Wisconsin.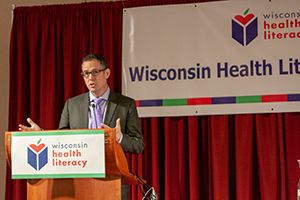 Health Literacy Summit
The Health Literacy Summit is the largest in the Midwest. 
Diverse sessions and networking opportunities provided attendees with the opportunity to learn more about health literacy. 
Visit our Summit page for more information.