Sponsors: Health Literacy Summit (April 2-3)
Thanks to the following for helping to make the 2019 event possible!
Platinum
Gold
Silver
Friend
Aspirus/Arise 
Carroll University
Children's Community Health Plan 
Children's Hospital of Wisconsin
Hall, Render, Killian, Heath & Lyman, P.C.
Health Literacy Media
HSHS Eastern Division Wisconsin
Institute for Healthcare Advancement 
Madison Gas and Electric Foundation 
National Network of Libraries of Medicine
ProLiteracy 
Rogers Behavioral Health
See Change Management
TASC
The Alliance 
UnitedHealth Group 
Wisconsin Medical Society
Additional Support
Beloit Health System
Delta Dental 
Sommer Consulting
Stoughton Hospital
Interested in sponsoring the Summit?
Sponsor Levels: 
Presenting: $20,000 & above
Platinum: $10,000 - 19,999
Gold: $5,000 - 9,999
Silver: $3,000 - 4,999
Friend: $1,000 - 2,999
For more information about becoming a sponsor, please contact Lynn Currie at lynn@wisconsinliteracy.org; or 608-257-1655, ext. 4.
Please click here for a list of sponsor benefits.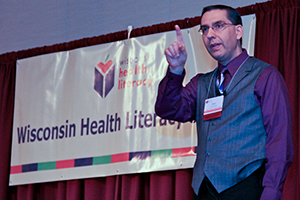 Health Literacy Summit
Over 350 people attended the 2017 Wisconsin Health Literacy Summit, which focused on how improved health literacy can help individuals become more engaged with their health and healthcare.

An additional 80 individuals attended the Medication Label Summit centering on how improving prescription drug labels can help patient understanding. Visit our Summit page for more information.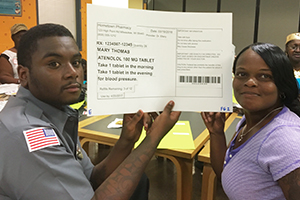 Medication Label
Wisconsin Health Literacy is working with a patient advisory council to design easy-to-read medication labels.  Our work has impacted about 3 million prescription labels in Wisconsin.  Read more about this project.