Let's Talk About the Flu
Wisconsin Health Literacy has completed the third year in a series of workshops designed for adults with limited literacy. Workshops were conducted in trusted locations where the target population regularly gathers to study, work, and socialize, such as adult literacy agencies, neighborhood centers, social service agencies, senior centers and homeless shelters.
A total of 2,516 participated in 125 workshops, conducted in 2010, 2011, and 2013.  Some of the results were:
33% of participants were Latino/Hispanic, 30% Caucasian, 18% African American and 19% other ethnicity.

55% of participants got flu shots (compared to 36% of U.S. adults and 32% of Wisconsin adults normally receiving the shots)

Awareness of flu symptoms, treatment, and reasons to get a shot increased from 53.3% to 82.5% (pre- to post-test)

The most common reason given for not getting a flu shot was "I am healthy, never had the flu."
These programs were funded by Anthem Blue Cross and Blue Shield Foundation in 2011 and 2013.  In 2010, the program was made possible by the Wisconsin Department of Health Services through a grant from the Centers from Disease Control and Prevention.
WHL hopes to identify funding opportunities to continue Let's Talk about the Flu programs in the future.
* The above video was produced in conjunction with the 2011 series of workshops.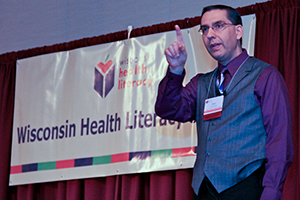 Health Literacy Summit
Over 350 people attended the 2017 Wisconsin Health Literacy Summit, which focused on how improved health literacy can help individuals become more engaged with their health and healthcare.

An additional 80 individuals attended the Medication Label Summit centering on how improving prescription drug labels can help patient understanding. Visit our Summit page for more information.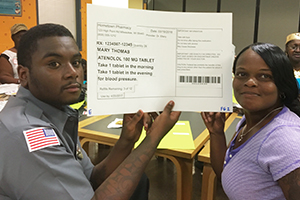 Medication Label
Wisconsin Health Literacy is working with a patient advisory council to design easy-to-read medication labels.  Our work has impacted about 3 million prescription labels in Wisconsin.  Read more about this project.