Implementation of New Medication Label Standards in Wisconsin
In January 2016, Wisconsin Health Literacy began a two-year project to implement new prescription medication labels in Wisconsin. This project is funded through the Healthier Wisconsin Partnership Program of the Advancing a Healthier Wisconsin Endowment, stewarded by the Medical College of Wisconsin.
In Wisconsin, 68.8 million prescriptions were filled in 2014, and over 50% of the 4 million adults ages 21 to 74 took at least one prescription monthly. Misunderstanding and incorrect medication use is linked to non-adherence, which has been associated with a 20% greater risk of hospital readmission. Of adults, 75% can't fully identify a prescription's reason for use, and, therefore, often do not use medication as prescribed. Seniors, who use the most medications, have a significantly greater risk of misunderstanding labels leading to allergic reactions, falls, and even death. 
The project focuses on systems change: successful implementation of new labels in 52 pilot pharmacies will be a catalyst for broader statewide change. While voluntary, the anticipated health benefits, patient satisfaction and medication adherence in the pilot pharmacies will position the change as imperative for others. Wisconsin Health Literacy, a division of Wisconsin Literacy, Inc. will lead the project in conjunction with MCW academic partner Kenneth D. Schellhase, MD, MA, MPH, Professor, Family and Community Medicine. Additional collaboration will be offered by Hayat Pharmacy, Hometown Pharmacy, UW Health Pharmacies, the Pharmacy Society of Wisconsin, the UW Patient and Community Engagement Center, UW School of Pharmacy, and others.
Project Activities:
Create new labels based on United States Pharmacopeia guidelines
Adopt new labels at 52 pharmacies in 3 pharmacy systems
Increase awareness of new labels through communication and outreach activities.
Hold Prescription Medication Labeling Summit in April 2017.
For more information, contact Steve Sparks, Health Literacy Director: steve@wisconsinliteracy.org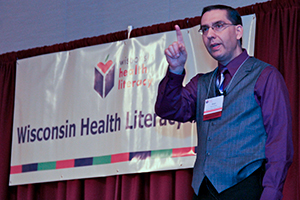 Health Literacy Summit
Over 350 people attended the 2017 Wisconsin Health Literacy Summit, which focused on how improved health literacy can help individuals become more engaged with their health and healthcare.

An additional 80 individuals attended the Medication Label Summit centering on how improving prescription drug labels can help patient understanding. Visit our Summit page for more information.