Medication Label Initiative Phase 3: Expansion of New Prescription Medication Label Standards in Wisconsin
Seeking Partner Pharmacies: Why be a part of the project? 
Your patients' adherence will improve! In the pilot phase, the average medication possession ratio (MPR) had significantly improved after the label change in three commonly prescribed categories.

Your pharmacy will be publicly recognized for being on the leading edge of best pharmacy practices.

Your patients will be more satisfied, healthier and safer because evidence shows that patient-centered labels are easier to read and understand.
See Pharmacy Implementation Resources to get started.
What is involved for your pharmacy?
Staff time necessary to redesign the labels and you may need to purchase new label stock.

WHL will assist you during the entire project by:
Providing you with a variety of sample label templates

Evaluating your labels before they go "live"

Working with you to assess patient feedback

Providing training to staff about the new labels
Additionally, prior pharmacy partners are available to answer questions you may have. Download the flyer that provides more information about the project. 
Project Background:
In January 2018, Wisconsin Health Literacy began a three-year project to expand the earlier pilot phase to implement patient-centered prescription medication labels in Wisconsin. This project is also funded through the Healthier Wisconsin Partnership Program of the Advancing a Healthier Wisconsin Endowment, stewarded by the Medical College of Wisconsin. The pilot phase of the project found that pharmacy patients preferred the new labels and improved adherence was seen.
  
Project Activities:
Collaborated with additional pharmacies resulting in 21% of pharmacies in Wisconsin adopting patient centered labels using United States Pharmacopeia guidelines.

Developed an Implementation Guide and resource website for phase 3 partners and pharmacies.

Increased awareness of new labels through communication and outreach activities.

Formed advisory groups: In addition to having a Project Advisory Council and a Patient Advisory Group (as was done in the pilot phase), this project included the following:  

Academic 

Advisory Group: this group consists of experts who have engaged in research surrounding patient-centered labels. 

Sig

 Improvement Task Force: this group consists of key stakeholders, including Epic representatives and pharmacists, who develop recommendations to organizations to improve their directions for use to meet the USP guidelines. 

Created a Label Champions Group and other resources to assist pharmacies in implementing new labels after the completion of the project. Pharmacists from the pilot phase and this phase will participate to help new pharmacies. 
Project Partners:
Wisconsin Health Literacy, a division of Wisconsin Literacy, Inc. will again lead the project in conjunction with Medical College of Wisconsin academic partner Kenneth D. Schellhase, MD, MA, MPH, Professor, Family and Community Medicine. In addition to participating pharmacies, collaboration is also being offered by: United States Pharmacopeia, Pharmacy Society of Wisconsin, UW-Madison School and Medical College of Wisconsin Schools of Pharmacy, Epic Systems, Wisconsin Academy of Family Physicians, and the Wisconsin Network for Research Support. 

For more information or if you are interested in being a part of this project, contact Bhumi Khambholja bhumi@wisconsinliteracy.org or Stan Hudson stan@wisconsinliteracy.org.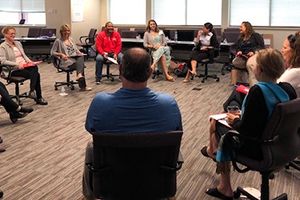 Health Literacy Services
Wisconsin Health Literacy offers training and consulting services customized to meet your organizational needs. Trainings focus on the numerous ways that health literacy impacts care delivery, health outcomes, and public health.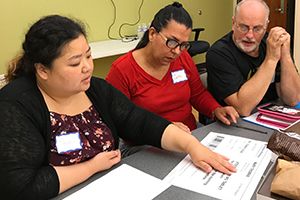 Medication Label
Wisconsin Health Literacy is working with a patient advisory council to design easy-to-read medication labels.  Our work has impacted over 4 million prescription labels in Wisconsin.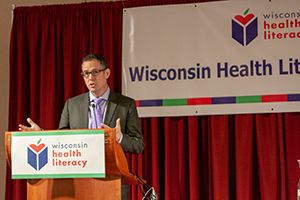 Health Literacy Summit
The Health Literacy Summit is the largest in the Midwest. 
Diverse sessions and networking opportunities provided attendees with the opportunity to learn more about health literacy. 
Visit our Summit page for more information.