Better Labels = Better Health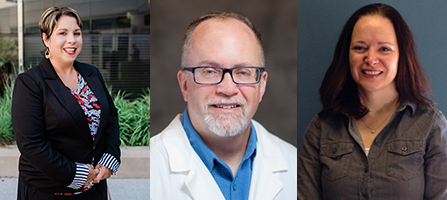 Melissa Ngo, PharmD, BCACP, (far left) received her Doctor of Pharmacy degree at the University of Iowa in 2002. Currently her position is Manager of Community Pharmacy Services at UW Health. She is responsible for overseeing daily operations amongst community pharmacies as well as 340B contractual pharmacy programs. She serves as a preceptor for pharmacy practice and administrative residents. Her professional interests include programs that help serve the underserved patient populations, maximizing pharmacy operational efficiencies, and clinical pharmacy practice advancement.
Kenneth G. Schellhase, MD, MPH, (middle) Professor of Family and Community Medicine, has served on the MCW faculty since 2001. He has also has been Medical Director for Children's Community Health Plan since 2008. Dr. Schellhase continues to see patients and teaches at a family medicine residency program. He is also a grant-funded researcher and currently is the principal investigator for two pharmacy-related grants. Dr. Schellhase has served on numerous national and state expert panels, including for CMS, PCORI, the National Quality Forum, and the Wisconsin Department of Health Services. Dr. Schellhase is the immediate past-president and current Board Chair of the Wisconsin Academy of Family Physicians, the state's largest medical specialty society.
Kari LaScala, JD, (far right) is the Associate Director at Wisconsin Health Literacy (WHL). She plays an instrumental role in planning, writing, testing, and implementing health literacy interventions for various populations in Wisconsin. She also manages the Medication Label Project – a multi-phase initiative to help pharmacies in Wisconsin redesign labels so they are patient-centered. In addition, she is a freelance writer and prior to joining WHL, Kari worked at the Waunakee Public Library, where she organized and implemented public programming for adult patrons. She holds a B.A. in journalism and psychology from Northern Illinois University (NIU) and a J.D. from NIU College of Law. She practiced law at a legal aid clinic and law firm in Chicago before moving with her family to the Madison area.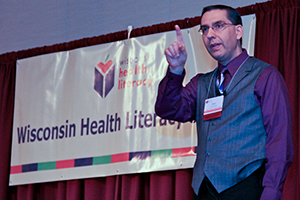 Health Literacy Summit
Over 350 people attended the 2017 Wisconsin Health Literacy Summit, which focused on how improved health literacy can help individuals become more engaged with their health and healthcare.

An additional 80 individuals attended the Medication Label Summit centering on how improving prescription drug labels can help patient understanding. Visit our Summit page for more information.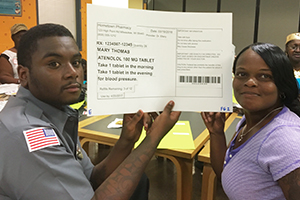 Medication Label
Wisconsin Health Literacy is working with a patient advisory council to design easy-to-read medication labels.  Our work has impacted about 3 million prescription labels in Wisconsin.  Read more about this project.