Medication Label Summit: Improving Prescription Drug Labels to Help Patient Understanding
This Medication Label Summit focused on the role of prescription drug labels in improving how patients take their medications. Topics included:
How patient-centered labels can increase understanding and improve use and adherence

What actual patients like and dislike about medication labels

How those with low health literacy especially benefit from easier-to-understand labels

How recent USP patient-centered guidelines for labels have potential to improve understanding

How the USP standards are being implemented in 52 pharmacies in Wisconsin

The experience in other states and health systems implementing new labels

What's next in medication labeling and health literacy
The Medication Label Summit was offered by Wisconsin Health Literacy, with support of the Advancing a Healthier Wisconsin Endowment of the Medical College of Wisconsin.  
Major sponsors of the Medication Label Summit were: 
Agenda:
Download agenda here
For more information about the Medication Label Summit, contact Lauren Werner: lauren@wisconsinliteracy.org or 608-257-1655, ext. 6.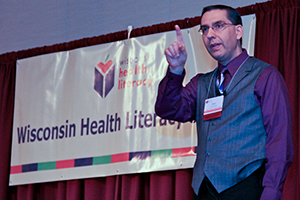 Health Literacy Summit
Over 350 people attended the 2017 Wisconsin Health Literacy Summit, which focused on how improved health literacy can help individuals become more engaged with their health and healthcare.

An additional 80 individuals attended the Medication Label Summit centering on how improving prescription drug labels can help patient understanding. Visit our Summit page for more information.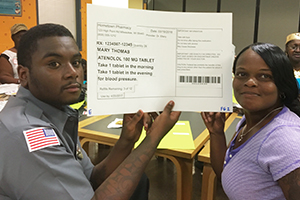 Medication Label
Wisconsin Health Literacy is working with a patient advisory council to design easy-to-read medication labels.  Our work has impacted about 3 million prescription labels in Wisconsin.  Read more about this project.