Welcome to the Pharmacy Implementation Resources page!
We have many resources available to help you get started with implementing patient-centered labels. 
1.  The Implementation Guide is a great start, as it provides step-by-step directions for redesigning labels.  Please contact Kari LaScala or Stan Hudson with any questions.
Download the Implementation Guide Quick Start flyer and view the accompanying video to get started.
2.  Pharmacist Toolkit for Patient-Centered Prescription Medication Labels
Educate your staff on the importance of patient-centered labels by reviewing this toolkit. This has been created to help them better understand the project and the "why" behind the importance of patient-centered labels. It contains a video and other resources, as well as a short survey. At the end is a Certificate of Completion you can sign for those who reviewed this toolkit. 
Additional Resources:
Background information about the project:
Adopting an Easy-to-Read Medication Label in Wisconsin White Paper
Adopting Patient-Centered Prescription Medication Labels in Wisconsin - Pharmacy Society of Wisconsin Journal article 
A Sticking Point for Medication Adherence - UW School of Pharmacy DiscoverRx Magazine 
Wisconsin and Federal Statutes
WI Chapter Phar 7
WI Chapter Phar 8
WI Chapter 450
Federal Requirements
Journal Articles and other Resources: 
United States Pharmacopeia Chapter 17 Guidelines (note: a revised version is anticipated in summer 2021)
AHRQ's Explicit and Standardized Prescription Medicine Instructions: (Using the Universal Medication Schedule to write better sigs)  
Bailey, SC et al, Expanding the Universal Medication Schedule (UMS): a patient-centered approach 
Davis TC, Wolf M et al, Literacy and Misunderstanding Prescription Drug Labels 
Institute of Medicine: Standardizing Medication Labels: Confusing Patients Less 
Lee, Charles. Patient Understanding: The Cornerstone of Medication Adherence 
Smith, Michelle Cruz Jimenez et al. Lost in translation: Medication labeling for immigrant families (JAPHA membership required) 
Wolf M, Bailey, SC. The Role of Health Literacy in Patient Safety
Wolf M et al, To err is human: Patient misrepresentations of prescription drug label instructions 
Wolf M, Davis TC et al, Effect of Standardized, Patient-Centered Label Instructions to Improve Comprehension of Prescription Drug Use 
Wood, B. Medication Adherence: The Real Problem When Treating Chronic Conditions 
National Libraries of Medicine (NLM) Medline Plus - a consumer health database (Drugs, Herbs, and Supplements category) owned and maintained by NLM
National Libraries of Medicine (NLM) DailyMed - information on drug labeling
Please take a survey about the resources on this webpage!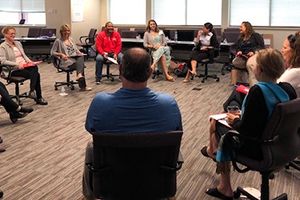 Health Literacy Services
Wisconsin Health Literacy offers training and consulting services customized to meet your organizational needs. Trainings focus on the numerous ways that health literacy impacts care delivery, health outcomes, and public health.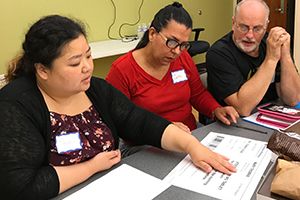 Medication Label
Wisconsin Health Literacy is working with a patient advisory council to design easy-to-read medication labels.  Our work has impacted over 4 million prescription labels in Wisconsin.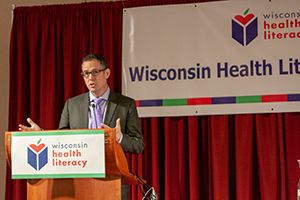 Health Literacy Summit
The Health Literacy Summit is the largest in the Midwest. 
Diverse sessions and networking opportunities provided attendees with the opportunity to learn more about health literacy. 
Visit our Summit page for more information.