Let's Talk About Medicines for Refugee and Immigrant Populations
At a Refugee Advisory Council meeting through the state of Wisconsin, leaders from organizations who serve refugees and immigrants expressed the need for and an interest in the Let's Talk About Medicines project for their clients. With that in mind, Wisconsin Health Literacy (WHL) applied for and received a grant from the Wisconsin Department of Health Services, Minority Health Program to implement a two-year project beginning in July 2015 and ending in June 2017 to meet that need.  
After conducting research and meeting with community health educators at the various organizations, the Let's Talk About Medicines workbook and workshop content for seniors were modified to make it more relevant for refugees and immigrants. For example, at the beginning of the workbook, WHL added a page that defined health care terms that may not be familiar to these populations, such as "Pharmacy" and "Prescription", and focused on understanding the differences between a doctor and pharmacist. And on the page that focuses on over-the-counter medications and how they may interact with prescription medicines, a section that included herbals, plants and other cures was included. 
During Year 1, WHL partnered with 13 different refugee and immigrant organizations to implement 20 workshops. Staff from those organizations observed the workshops in Year 1 and are now implementing the same workshops on their own in Year 2. 
Using interpreters and translated material when needed, there were over 350 participants in Year 1. Languages spoken in Year 1:
Arabic

Burmese

English

Hmong

Karen

Sgaw Karen

Somali

Spanish

Swahili

Tigrinya
Tips for Pharmacists working with Refugee and Immigrant Populations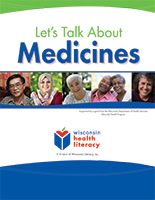 Download Let's Talk About Medicines workbook (refugees and immigrants)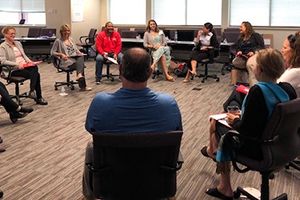 Health Literacy Services
Wisconsin Health Literacy offers training and consulting services customized to meet your organizational needs. Trainings focus on the numerous ways that health literacy impacts care delivery, health outcomes, and public health.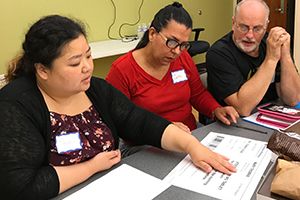 Medication Label
Wisconsin Health Literacy is working with a patient advisory council to design easy-to-read medication labels.  Our work has impacted over 4 million prescription labels in Wisconsin.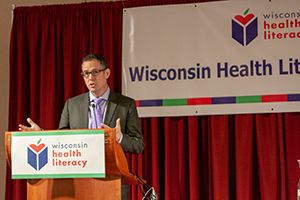 Health Literacy Summit
The Health Literacy Summit is the largest in the Midwest. 
Diverse sessions and networking opportunities provided attendees with the opportunity to learn more about health literacy. 
Visit our Summit page for more information.