Pre-Summit Sessions
The SHARE APPROACH: How to Implement Shared Decision Making on the Job 
Monday, April 3, 12:00 – 4:00 p.m.
(Additional Fee: $60)

Jann Keenan, Strategic Partner - Health Literacy, Institute of Healthcare Advancement; President, the Keenan Group and
Michelle Tregear, Project Director, AFYA, Inc. 

Attend this 4-hour interactive workshop and learn cutting-edge, evidence-based information on shared decision making, including: 
Five essential steps to engage patients in health care decision making using the  SHARE Approach. 

Ways to incorporate resources and decision aids based on patient-centered outcomes research (PCOR) into shared decision making.

Skills to overcome common communication barriers including the role of shared decision making in health numeracy, health literacy, teach-back, working with qualified medical interpreters, and considering culture.

Tips of the trade (not found in books) on engaging the people you may train on shared decision making.

Access to free materials so you can teach others what you've learned!
You'll learn through small group discussion, lively lecture, participating in role playing, video analysis, and assessing case studies. This 4-hour program is modified from the Agency for HealthCare Research and Quality's (AHRQ) 6.25 master training program on shared decision making. 
About our Presenters: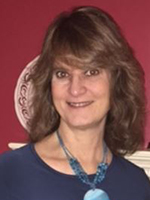 Jann Keenan, Ed.S. is a trailblazer and national health literacy leader who works tirelessly to close the health equity gap. A strategic partner for the Institute for Healthcare Advancement (IHA), she also is a founding partner of Health Literacy Innovations, creator of the nation's first interactive health literacy software tool.  Keenan was honored as Indiana University's Distinguished Alumni for national and international health communication work. She received Maryland's Governor's Citation and the Horowitz Center's Health Literacy Hero Award. An instructional designer, Keenan frequently presents lively keynotes, workshops and webinars throughout the country, and creates award-winning health curricula, websites, campaigns, and videos.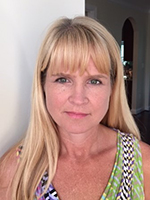 Michelle Tregear, Ph.D., has more than 17 years of health services research and project management. She currently serves as the project director at AFYA, Inc. She served as the project director on the development of AHRQ's SHARE Approach shared decision making project, leading a team of researchers, communications specialists, and instructional designers to develop and evaluate new tools and training for clinicians. She has led dozens health care related projects for AHRQ, CDC, and other HHS Agencies. She holds a Ph.D. and M.A. in psychology from the University of Colorado.
 Health Literacy Starter Kit:  Basic Information and Resources for the Newcomer  
Monday, April 3, 4:30 - 6:00 p.m.
(Included in Summit registration fee-no additional charge)

Paul D. Smith, MD, Medical Advisor, Wisconsin Health Literacy, and Professor, University of Wisconsin Department of Family Medicine and Community Health
Whether you're new to the field, want to brush up on the latest information and resources or just ask a few questions, this session is for you.  Dr. Smith will start with a review of basic concepts for literacy and health literacy as they relate to health and healthcare including suggestions for learning more about health literacy.  He will also review a variety of easily available useful resources, lead a discussion of some of the current issues and controversies in the field and where to find some of Madison's finest restaurants.  With plenty of time for questions, this session is a great way to kick off the conference.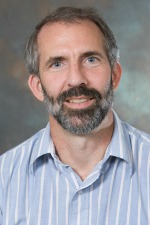 About Our Presenter:
Paul D. Smith, MD is a Professor in the University of Wisconsin Department of Family Medicine and Community Health and has been a family physician for 32 years. He serves as a medical advisor to Wisconsin Health Literacy. Dr. Smith joined the University of Wisconsin Department of Family Medicine and Community Health faculty in 1995.  He continues to do patient care one day per week and spends the rest of his time with a variety of service and research activities.  He has served as a volunteer on the Board of Directors for Wisconsin Literacy for 11 years and served as the chair of its Health Literacy Committee. Dr. Smith received the 2008 Wisconsin Literacy Advocate of the Year award and 2009 Sally Sunde Family Advocate Award for his literacy work.  He has led six health literacy projects and is currently working on a project to develop educational workshops for family caregivers of seniors to improve communication with their healthcare professionals.  He is also leading a project about shared-decision making for patients and doctors related to the treatment of post- menopausal symptoms.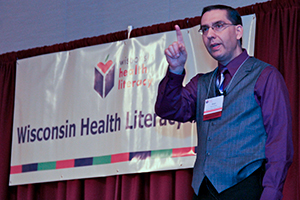 Health Literacy Summit
Over 350 people attended the 2017 Wisconsin Health Literacy Summit, which focused on how improved health literacy can help individuals become more engaged with their health and healthcare.

An additional 80 individuals attended the Medication Label Summit centering on how improving prescription drug labels can help patient understanding. Visit our Summit page for more information.