Plenary Sessions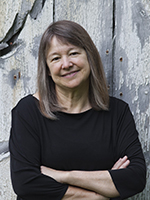 "The Spirit Catches You and You Fall Down" (Keynote/Plenary A)
Anne Fadiman
Author, essayist, editor and teacher

Anne Fadiman will explore the cross-cultural experience of reporting and writing The Spirit Catches You and You Fall Down: A Hmong Child, Her American Doctors, and the Collision of Two Cultures. Her
book, winner of the National Book Critics Circle Award, traced the dramatic conflicts that arose between a refugee family from Laos and their American doctors over the care of their seriously ill child.
Fadiman's talk will trace the cross-cultural challenges she herself faced while researching her book and suggest ways in which the American medical system might improve its treatment of patients from other cultures.

About our Presenter:
Anne Fadiman is an author, essayist, editor, and teacher. Her first book, The Spirit Catches You and You Fall Down, tells the story of an epileptic Hmong child and her family living in Merced, California. Fadiman's sensitive, incisive treatment of the unbreachable gulf between the Hmong and American medical systems won her a National Book Critics' Circle Award. The Washington Post called the book "an intriguing, spirit-lifting, extraordinary exploration."  In 2009 it was chosen by the Young Adult Library Association as one of its recommended titles for all students (the list, which includes a number of adult titles, is revised every 5 years and used by educators and librarians across the country). Spirit is frequently chosen by colleges, libraries, and communities for First Year Experience and All Read programs.  The book continues to be taught at universities both as literary journalism and as a casebook for crosscultural sensitivity in general; it is also widely read by medical practitioners who wish to offer more effective care to patients from other cultures.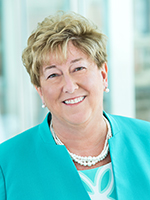 "The Voice of the Patient in Care Delivery" (Plenary B)
Karen Drenkard, PhD, RN, NEA-BC, FAAN
O'Neil Center/GetWellNetwork

This presentation shares the importance of including the voice of the patient to improve care. Key findings of the literature review and themes are shared with an eye to the gaps in the research. Several innovative research activities are shared that focus on how technology can be leveraged to most effectively engage patients in their care journey to improve health outcomes. 

About our Presenter:
Dr. Karen Drenkard is the SVP/Chief Clinical Officer and Chief Nurse of the O'Neil Center at GetWellNetwork® Inc. in Bethesda, MD. She was the lead investigator in the development of the Interactive Care Model© a process model for more effectively engaging patients and family in their care. Dr. Drenkard is the immediate past Executive Director at the American Nurses Credentialing Center and the Magnet Recognition Program. Prior to that, Drenkard served for 10 years as the SVP of nursing/chief nurse executive of Inova Health System. She is currently the President of the Friends of the National Institute for Nursing Research (FNINR); she serves as an editorial advisor to Journal of Nursing Administration (JONA) and Nursing Administration Quarterly (NAQ). She is a fellow in the American Academy of Nursing and the National Academies of Practice. Drenkard received her doctorate in nursing administration from the George Mason University, a Wharton Nurse Executive Fellow, and a Robert Wood Johnson Executive Nurse Fellow.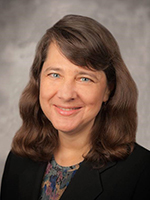 The Health Literacy Journey: Getting to an Exceptional Health Care Experience (Plenary C)
Cindy Brach, M.P.P.
Senior Health Care Researcher for the Agency for Healthcare Research and Quality (AHRQ)

National health literacy expert Cindy Brach will describe the journey that many health care systems are making as they strive to become health literate, from focusing on written and spoken communication to making the entire patient experience exceptional. Learn about the external forces (e.g., payment reform) that are driving health systems to focus on patient engagement, and about resources and tools to involve individuals in shared decision-making.

About our Presenter:
Cindy Brach leads AHRQ's health literacy and cultural and linguistic competence activities, coordinating the Agency's work in developing measures, improving the evidence base, and creating implementation tools. These include the development of the AHRQ Health Literacy Universal Precautions Toolkit, CAHPS® Item Sets for Addressing Health Literacy, the Re-engineered Discharge Toolkit, and the Patient Education Materials Assessment Tool (PEMAT). She serves on the NASEM Roundtable on Health Literacy, where she led an effort to define the ten attributes of a health literate organization.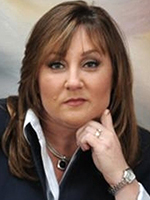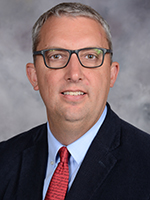 Convince & Convert: Making the Case for Health Literacy and Implementing it in Your Organization (Plenary D)
Christopher Trudeau, JD
Professor of Law, Western Michigan University - Thomas M. Cooley Law School;
Kim Parson
Strategic Consultant, Humana

Have you been having trouble advocating for or implementing health-literacy initiatives in your organization? If so, this session is for you. Christopher Trudeau, a health-literacy lawyer, will not only discuss the business justifications for integrating health literacy, but he will discuss the legal, regulatory, and compliance aspects of doing so. What's more, Kim Parson will provide useful advice on how she has led the health-literacy integration efforts in the insurance context at Humana.
 
About our Presenters: 
Christopher Trudeau is a Professor at Western Michigan University, Thomas M. Cooley Law School. He is one of the leading advocates on health literacy and the law. Professor Trudeau is an expert on informed consent and often speaks on how to communicate in a way that both engages the patient and better protects the healthcare organization. He has recently spoken for the Institute of Medicine and the FDA on informed consent, risk communication, and best practices for communicating clear messages to the public. Additionally, Trudeau has presented seminars and webinars for many health organizations, such as United Health Group, Maximus, and the Institute for Healthcare Advancement.
Kim Parson is a Strategic Consultant at Humana, a leading well-being company headquartered in Louisville, Ky. She leads enterprise health literacy efforts sponsored by the organization's Chief Medical Officer. Since 2013, Kim has served on the National Academies of Medicine Roundtable on Health Literacy.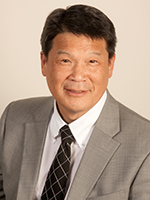 Implicit Bias: You Are What People Hear (Plenary E)
Winston F. Wong, MD, MS, FAAFP
Medical Director, Community Benefit, Kaiser Permanente

Understanding the nature of implicit bias may provide clues in how we communicate with others.  Implicit bias has been validated as a neuro-psychological process which generates autonomic responses as a result of visual mental short cut. This can lead to bias in relationships with individuals, potentially leading to decision making that results in inequitable distribution of resources and consideration.  While the visual components of implicit bias have been widely shared and studied, there has been no similar review of how the spoken word, diction, vernacular, articulation, and accents may result in unfair bias, and contribute to health inequities.

About our Presenter:
Dr. Wong serves as Medical Director, Community Benefit, Kaiser Permanente, the nation's largest non-profit health care provider, guiding its investments and strategies to support the nation's safety net and the pursuit of health equity.  He currently serves on a number of boards and committees, including those advising HHS, the National Academy of Medicine, public hospitals, organized medicine, and school based clinics.  A graduate of UC San Francisco, Dr. Wong also sits on the Board of Directors of the California Endowment, one of the nation's largest health philanthropies.  In 2010, he was recognized by the APHA as a "Face of Public Health."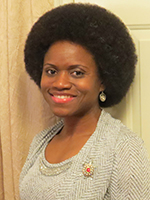 The Power of Ethnodrama Arts: Conveying Health Disparities in Culturally Relevant Ways (Closing/Plenary F)
Anita Woodley
Emmy Award-winning Journalist, Health Education Entertainer, and Ethnodrama Presenter

Emmy Award-winning Journalist and Health Educator Entertainer Anita Woodley presents powerful health disparity communication through ethnodramas- non-traditional theatrical performances based on ethnographic research data used to dispel myths, educate, promote and prevent harmful practices to overall health. Mrs. Woodley utilizes various facets of art to convey health concepts while addressing the past and restructure the future of health, particularly within the communities at high risk for health disparities. Witness Anita use humor and straight-talk. The approach to early intervention and prevention for disparities empowers communities experiencing diabetes, breast cancer, obesity, HIV/AIDS, heart disease and more. 

Be prepared for some surprise visitors! Joining Mrs. Woodley when you least expect it will be some folks who have a lot to say about what's wrong and what's right about health care. Watch for a feisty great-grandmother with 100 years of health experiences, a 47-year-old woman with breast cancer. You won't want to miss this! 
    
About our Presenter: 
Anita Woodley is an Emmy Award-winning journalist, health educator entertainer, producer, playwright and mix-media folk artist. She's also a certified HIV counselor, Drama and Literary Teaching Artist, and Safe Touch Educator. Mrs. Woodley has written and performed 15 "enthnodrama" health disparity shows, including the critically-acclaimed Trials, not Tribulations: Clinical Trial Choice for African-Americans; Bucking The Medical and Mental Bull: Black Males and the Healthcare System; Mama Juggs: Breast Cancer, and Brickhouse – The Remodel: Reversing Pre-Diabetes and Obesity. As a television and radio journalist for more than 20 years, Anita Woodley worked at CNN, Public Radio and NBC. Watch videos and more: www.AnitaWoodley.com.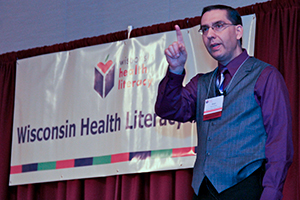 Health Literacy Summit
Over 350 people attended the 2017 Wisconsin Health Literacy Summit, which focused on how improved health literacy can help individuals become more engaged with their health and healthcare.

An additional 80 individuals attended the Medication Label Summit centering on how improving prescription drug labels can help patient understanding. Visit our Summit page for more information.